Dr. Melanie Shoffner: Associate Professor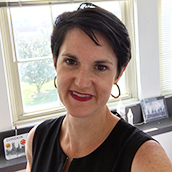 Associate Professor, English Education
Middle, Secondary & Mathematics Education
Office: Memorial Hall 3265A
Email: shoffnme@jmu.edu
Phone: (540) 568-4314
About
Prof. Shoffner is Associate Professor of English Education in the College of Education's Department of Middle, Secondary and Mathematics Education at James Madison University. Her research examines issues arising from, related to and influential for secondary English teacher preparation, including the development and use of meaningful reflective practice and the role of affective and relational elements in teacher preparation, interests that first developed while teaching high school English Language Arts in North Carolina and Arizona.
In 2016-2017, she was a Fulbright Scholar in the Faculty of Letters at Babeș-Bolyai University in Cluj-Napoca, Romania, teaching courses in adolescent literature, pedagogy and American culture.  Prior to joining JMU, she held a joint appointment in the Departments of English and Curriculum & Instruction at Purdue University (West Lafayette, IN).  During her 11 years there, she was awarded a fellowship to study the history of World Wars I and II, won several teaching awards at the departmental and university level, and developed her own summer study abroad program to London, England. 
Education
PhD    University of North Carolina at Chapel Hill – Education: Culture, Curriculum & Change
MAT    Duke University – English Education
AB      Duke University – English and History
Recent Publications
Shoffner, M. (2018). Disrupting the world as we know it: Addressing racism in ELA education. Journal of Language and Literacy Education [Online}. Retrieved from http://jolle.coe.uga.edu/wp-content/uploads/2018/01/SSO-Jan-2018_Shoffner_Final.pdf
George, M., & Shoffner, M.  (2017).  The teacher's conundrum: Choosing literature for adolescents in a standards-obsessed world.  In Goodwyn, A., Durrant, C., Reid, L., and Scherff, L. (Eds). International Perspectives on the Teaching of Literature in Schools: Global Principles and Practices. New York: Routledge.
de Oliveira, L.C., & Shoffner, M. (2017).  Courageous literacy: Linguistically responsive teaching with English Language Learners.  Voices from the Middle, 24(3), 44-47.
Shoffner, M. (ed.). (2016).  Exploring teachers in fiction and film: Saviors, scapegoats and schoolmarms. New York: Routledge Press.
de Oliveira, L.C., & Shoffner, M. (eds.). (2016).  ELA teachers and ELL students: Preparing     English Language Arts teachers to teach English Language Learners. New York: Palgrave Macmillan.
Shoffner, M. (2014, December). We're all mad here: A response to the US Department of Education's proposed regulations for teacher preparation from the Chair of the Conference on English Education. National Council of Teachers of English. Retrieved from http://www.ncte.org/library/NCTEFiles/Groups/CEE/ChrResponse_DOE%20regs_dec2014.pdf
Shoffner, M., Sedberry, T., Alsup, J., & Johnson, T. S. (2014). The difficulty of teacher dispositions: Considering professional dispositions for preservice English teachers.  The Teacher Educator, 49(3), 175-192.