Dr. Dara Hall: Interim Director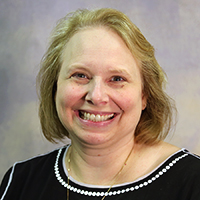 Academic Degrees: 
James Madison University, Ph.D. Strategic Leadership, Educational K-12 Leadership
James Madison University, post Master's Certificate in College Student Personnel Services
Antioch University Seattle, M.A. in Education
State University of New York at Binghamton, B. S. in Biology
Professional Experience:
Dara Hall has been working with JMU teacher education students through the Education Support Center since 2005.  Dara works closely with all teacher education programs to meet field experience needs, placing over 2000 field placements annually both locally and throughout Virginia.  She is  the Coordinator for the MidValley Consortium, which includes seven local school divisions in the Shenandoah Valley and three institutions of higher education in addition to JMU.  She helps to facilitate training for the over 600 active clinical faculty that work with JMU student teachers.  Dara is involved in numerous projects in the College of Education, particularly as they relate to accreditation standards, such as field experience assessments, pre-professional program admission standards, and school-based partnerships.  Prior to working at James Madison University, Dara was a curator, educator, and wild animal keeper for four zoos around the country. 
Primary Research Interests:
Program Evaluation and PK-12 pre-service teacher preparation including: cooperating teacher mentorship and clinical faculty development; best practices in student teaching supervision; recruitment and retention for beginning new teachers; cooperative teaching; and experiential learning in field placements.