Healing, Changing, Leading, Discovering - Be the Change
You are in the main content
Join Us to Be the Change! Sign up for updates, search for activities and events, subscribe to Madison, see how Madison people are... Read More


Rheannon Sorrells ('04, '11M) Reading educator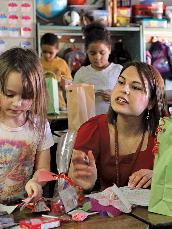 Drawing on her JMU training in early childhood and exceptional education, she suggested a new method of teaching... Read more >
James Madison University's Be the Change Blog:
On that hot, chaotic August day
Mon, 18 Aug 14 3:25 p.m.
Freshmen, take a look at your new roommates. They might become lifelong friends, and there's also the possibility that they... ...
Read More
Which one will you love?
Wed, 30 Jul 14 6:28 p.m.
If you're coming to James Madison University as a freshman or transfer student next month, you probably have in mind the name of a... ...
Read More
So who will it be?
Mon, 14 Jul 14 4:42 p.m.
From unknown to friend by Annamarie Frost ('13, '14M) So you've decided to attend JMU. You've gone to your Summer Springboard... ...
Read More