Healing, Changing, Leading, Discovering - Be the Change
You are in the main content
Join Us to Be the Change! Sign up for updates, search for activities and events, subscribe to Madison, see how Madison people are... Read More


Sara Jo Malinske ('13)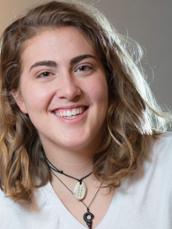 She believes in opportunity and that's what she wants for girls in Kenya, where prospects are limited yet talent abounds. Read more >
James Madison University's Be the Change Blog:
Sayo's hope for better lives
Mon, 24 Aug 2015 8:01 p.m.
While James Madison University is located in Virginia's Shenandoah Valley, a world away from some of the world's challenges, the... ...
Read More
A meaningful life of change
Tue, 21 Jul 2015 4:33 p.m.
When Ellen Childers of the Madison College Class of 1962 wrote us about her friend and classmate Betty Harrington Griffiths, we... ...
Read More
The power of a mentor
Thu, 11 Jun 2015 5:51 p.m.
"What do you want to get out of our time?" by Brad Jenkins ('99) Stephen and I had been meeting for a couple weeks, and... ...
Read More