Healing, Changing, Leading, Discovering - Be the Change
You are in the main content
Join Us to Be the Change! Sign up for updates, search for activities and events, subscribe to Madison, see how Madison people are... Read More


Emily Lewis Lee ('43) World War II Veteran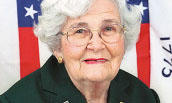 Some events carry such power that they forever define the lives of those involved. World War II was that event for Emily Lewis Lee ('43). Read more >
James Madison University's Be the Change Blog:
Second act
Sun, 9 Nov 2014 10:00 p.m.
Imagine spending one day staring down death, or at least considering the possibility as real. Imagine doing so for weeks, months — or... ...
Read More
Fairytale change
Mon, 20 Oct 2014 3:46 p.m.
Whenever a student leaves campus, travels across an ocean and lands in a foreign country, change is inevitable. But for one JMU senior,... ...
Read More
Change that reverberates
Fri, 3 Oct 2014 3:47 p.m.
When Sam Harrison graduates from JMU next year with a degree in computer science and a minor in math, he'll have his parents to thank,... ...
Read More