Healing, Changing, Leading, Discovering - Be the Change
You are in the main content
Join Us to Be the Change! Sign up for updates, search for activities and events, subscribe to Madison, see how Madison people are... Read More


Alissa McLaughlin ('01)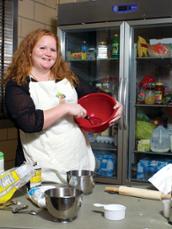 Seeing that inner city children in her hometown of Philadelphia knew little about healthy eating, shopping and cooking, she devised a solution. Read more >
James Madison University's Be the Change Blog:
The power of a mentor
Thu, 11 Jun 2015 5:51 p.m.
"What do you want to get out of our time?" by Brad Jenkins ('99) Stephen and I had been meeting for a couple weeks, and... ...
Read More
Snapping change
Mon, 18 May 2015 3:00 p.m.
The Madison of 1972 was a very different place than the Madison of today. During the 1970s, the public perception of the college began a... ...
Read More
80 semesters of lessons
Thu, 30 Apr 2015 12:58 p.m.
The end of this semester marks the end of an era at James Madison University. After 40 years, David Wendelken, associate professor of... ...
Read More