Healing, Changing, Leading, Discovering - Be the Change
You are in the main content
Join Us to Be the Change! Sign up for updates, search for activities and events, subscribe to Madison, see how Madison people are... Read More


Sheryl Watson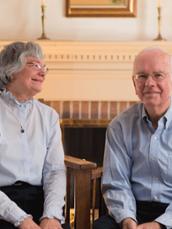 As a math tutor, she works with Facets, a nonprofit dedicated to lifting people from poverty; many are immigrants and refugees. Read more >
James Madison University's Be the Change Blog:
80 semesters of lessons
Thu, 30 Apr 2015 12:58 p.m.
The end of this semester marks the end of an era at James Madison University. After 40 years, David Wendelken, associate professor of... ...
Read More
Saving 25
Wed, 15 Apr 2015 5:52 p.m.
Save a little, save a lot. It could be Daniel Hill's motto. This intrepid JMU alumnus is changing the way small businesses think... ...
Read More
A bed, a snake and a big, blue sky
Tue, 17 Mar 2015 3:23 p.m.
Imagine growing up where all the trees are ringed by concrete, where the only forest to explore is a crowded public park, where the... ...
Read More