Healing, Changing, Leading, Discovering - Be the Change
You are in the main content
Join Us to Be the Change! Sign up for updates, search for activities and events, subscribe to Madison, see how Madison people are... Read More


Sandy and Gibbie ('61) Berry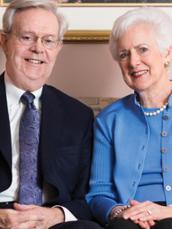 Scholarship is a family affair for this couple and their extended family ... Read more >
James Madison University's Be the Change Blog:
My newest favorite word
Wed, 14 Jan 2015 7:06 p.m.
I have a new word in my personal lexicon: Gruverize. It is defined thus: 1. to go out of one's way to be helpful 2. to unselfishly... ...
Read More
Changed by a FrOG
Tue, 9 Dec 2014 7:06 p.m.
In Grimm's fairy tale, The Frog Prince, being changed by a frog is a central theme. The same might be said for the Madison... ...
Read More
GIVING thanks
Tue, 2 Dec 2014 4:25 p.m.
As most of us revel in post-Thanksgiving stupor, here's a story to make you smile. This year JMU alum Alissa McLaughlin ('01)... ...
Read More