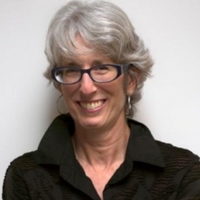 EDUCATION
Ph.D. – University of Michigan, Ann Arbor
M.A. – University of Michigan, Ann Arbor
J.D. – Loyola Law School, Los Angeles
B.A. – Duke University, Durham, N.C.
AREAS OF EXPERTISE
French Modernism
Early French film history
Visual culture in the 19th and 20th centuries
Gender and sexuality studies
PREVIOUS EXPERIENCE
Before coming to JMU, Dr. Shanahan taught art history and women's studies courses at SUNY Oswego, where she directed the women's studies program and a SUNY-wide French exchange program.  Before entering academia, she worked as a lawyer at the Securities and Exchange Commission and as a grants writer for the Southwest Museum in Los Angeles.
SCHOLARSHIP
Dr. Shanahan's completed manuscript, The Colorist Doctor: Fernand Léger and the Aestheticization of Trauma, is currently under review at a university press.  The Colorist Doctor reconsiders Léger's oeuvre as contextualized by the experiences and significations of the trauma of the Great War, the Exodus of 1940, and other events formative of gendered and racialized conceptions of nation, the working class, and collective identity.  A second book project, Simón Bolívar as National Myth and Cultural Sign, is a co-edited collection (with Ana María Reyes of Boston University and Pedro Aponte at JMU) about Bolívar as a contested cultural symbol of national identity and revolutionary politics.   It is under advance contract with the University Press of Florida.
Dr. Shanahan has also published articles on Fernand Léger, Nancy Cunard and African art, Georgette Leblanc in the film L'Inhumaine (1924), Pablo Picasso, and contemporary women artists Malaika Favorite and Kathy Budd.  These articles have appeared in Konsthistorisk Tidskrift, the International Journal for Art and Design Education, the Journal of Colonialism and Colonial History, Cinema Studies, and Michigan Feminist Studies.  She has also contributed essays on Léger to various anthologies, exhibition catalogs and encyclopedias:  Patronage, Spectacle and the Stage, edited by Irene Eynat-Confino and Eva Sormova, 87-97 (Prague:  Theatre Institute, 2006); Democracy and Culture in the Transatlantic World, edited by Daniel Silander, 199-207 (Växjo, Sweden: Växjo Univ. Press, 2005); Den Maskulina mystiken (The Masculine Mystery), edited by Anna Lena Lindberg  (Lund, Sweden:  Studentlitteratur, 2002) (in Swedish).
She has presented papers on her research at the annual conferences of the College Art Association, the International Federation for Theater Research, the Modernist Studies Association, as well as various non-reoccurring conferences.  She has been a keynote or invited speaker at Bristol University, Haliç University, Lund University, Universidad Central de Venezuela, and Université de Nancy, and she has presented these talks in English, French and Spanish.
Dr. Shanahan served as Associate Director of the Honors Program from 2004-2012.
Art, Design and Art History
Duke Hall
MSC 7101
820 S. Main
Harrisonburg, Virginia 22807
$currentPage.getStructuredDataNode('template').textValue
800 South Main Street
Harrisonburg, VA 22807
Contact Us