News
In Their Own Words
How JMU Student Grant Johnson is Building His Dream Career
---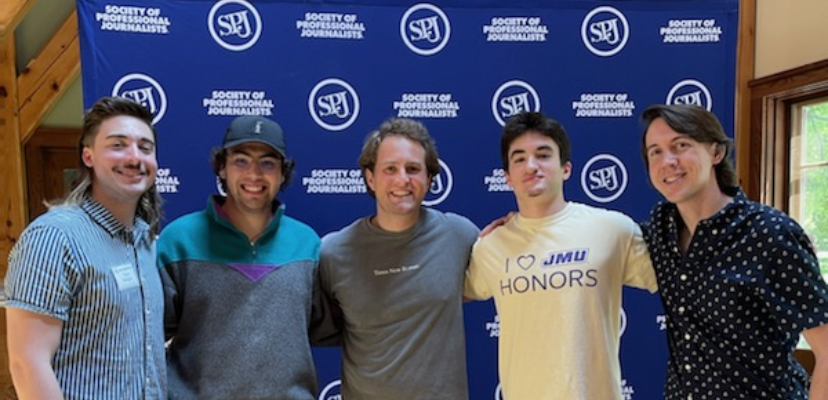 Sophomore Grant Johnson has a dream to someday create multimedia for the Denver Broncos and write for The Athletic. A double-major in Writing, Rhetoric and Technical Communication (WRTC) and Media Arts and Design (SMAD) with minors in Sport Communication and Honors, Johnson also holds several positions at The Breeze. This summer, he travelled to Indianapolis to attend the Society of Professional Journalists' (SPJ) Student Leadership Institute. In this first story in a new series written by WRTC students, Grant writes about his experience attending the innaugural Student Leadership Institute. 
---
By Grant Johnson
Earlier this summer, I was one of 24 student-journalists nationwide selected to attend the Society of Professional Journalists' (SPJ) inaugural Student Leadership Institute in Indianapolis from July 16-18. Coming into the event, I thought it was going to be more about networking than the actual event, as I assumed not much could be learned in two and a half days.
Boy, was I wrong. 
At the institute, I learned more about myself as a person and leader in those 60 or so hours than I had in probably my entire prior 19 years of living. Through thought-provoking conversations with the other students in attendance, I empathized with others' stories on what it's like to be a minority in a newsroom and to have incompetent management and how to deal with it. I also learned about myself as a leader, reaffirmed what my strengths are and what I need to improve on as a participant in a newsroom. Among those areas of improvements, I was able to identify dealing with hostility or confrontation – even if it's not directed at me – and learning to adapt and be flexible when my original plans go awry.
One memorable game emphasized the importance of the chain-of-command, communication and collaboration through role playing and problem solving. Ultimately, the game taught me that to be an objective journalist, I can only steer readers in the right direction, not tell them what to think.
Another important message I took from this experience was about diversity in the newsroom. We learned about the Kerner Commission, appointed under former President Lyndon B. Johnson, that had the goal that newsrooms would match the ethnic diversity of the populous that room is covering by the year 2000. Long story short, those goals weren't met.
Beyond that content, I found myself bonding with all the other students through our passion for the industry. Since we were selected to attend the institute, we were also invited to attend the SPJ 2021 Journalism Conference September 2-4 in New Orleans. Although the workshops and seminars switched to virtual due to an increase in Delta cases and then a hurricane, the six conference sessions I attended virtually were great. 
---
Grant Johnson's writing can be found by searching his name on The Breeze's website search bar as well as the Fairfax Times website (fairfaxtimes.com).