SMADFEST will feature student films at 7 p.m. May 6 on YouTube
Media Arts and Design
---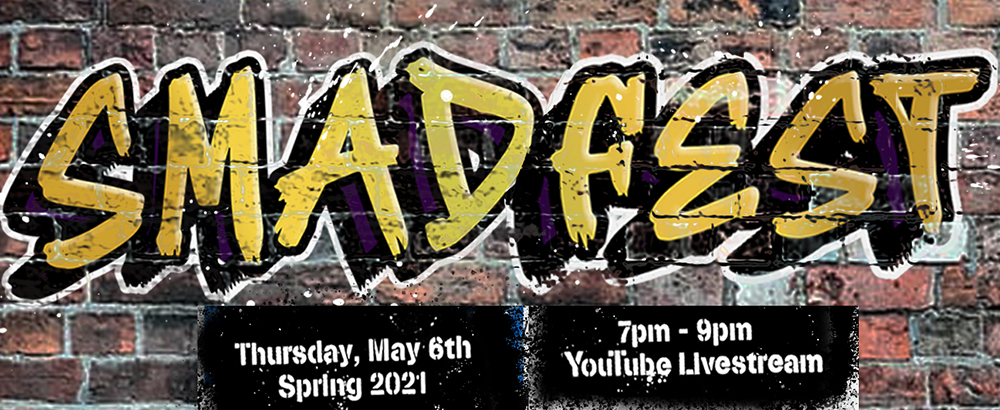 By Charlotte Matherly, staff writer
After a semester-long endeavor to produce and direct their own short films, Digital Video and Cinema students will present their work — five films by 17 seniors — during SMADFEST, which premiers at 7 p.m. May 6 on a YouTube livestream.

The link is also available in the QR code on the SMADFEST poster.
The films are the product of Professor Rustin Greene's SMAD 405 senior capstone class. Everything about the project is up to the students, which provides plenty of space for creative freedom. But Greene said filmmaking isn't the only thing his producing and directing class encapsulates.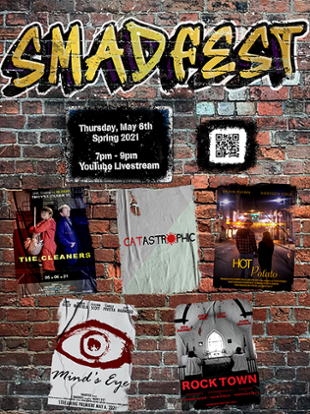 "You can make the film, but how do you get somebody to look at it?" Greene said. "How do you get an audience? … That's a significant part of the learning experience."
SMADFEST gives students the opportunity to show their work to friends, professors and classmates. Before the semester begins, each student writes a script. The first week of class is spent deciding which scripts to make into short films, dividing the class into groups and placing everyone into a specific role within their production team.
Senior SMAD DVC major Alexandra Dauchess is the producer for her group's film, "The Cleaners" — a dark comedy about two "cleaners" who specialize in dealing with dead bodies. When the victim's girlfriend arrives home, the two are put in a sticky situation and must get out without arousing suspicion.
As producer, Dauchess is in charge of scheduling, budgeting, planning and any job that isn't covered specifically by the director, editor or cinematographer.
The biggest challenge, Dauchess said, has been taking a back seat to the director. Within her group, each role is fluid, so everyone ends up doing a little bit of everything. But for a natural leader and delegator like Dauchess, it's been difficult to step back and let her team member direct."It's kind of been a learning curve," Dauchess said.
"We've figured out, kind of, where we all stand and what we're all doing."
As difficult as making a film is, it's been more challenging during the pandemic. Dauchess said she wasn't sure if they could get actors who were comfortable taking their masks off to shoot scenes. The group used the editor's house as a location — a benefit that not every team has had, she said. Because of COVID-19, many public spaces, such as restaurants and stores, aren't as willing to let groups of students come in to film.
Greene said he's looking forward to SMADFEST, and he's proud of his students for overcoming the barriers set forth by the pandemic — not only in this semester, he said, but in the past two semesters as well. He said their hard work gives him confidence about their futures in the film industry.
"It's enormously gratifying to see that they have embraced the creative challenges," Greene said. "The way that they're really responding to their challenges is very, very, very gratifying and gives me a lot of a lot of hope for them as professionals."