Media Arts and Design
SMAD alumni team up for Emmy-winning production
Group from LAI in D.C. win regional award for 'Preserving Our Nation's History'
---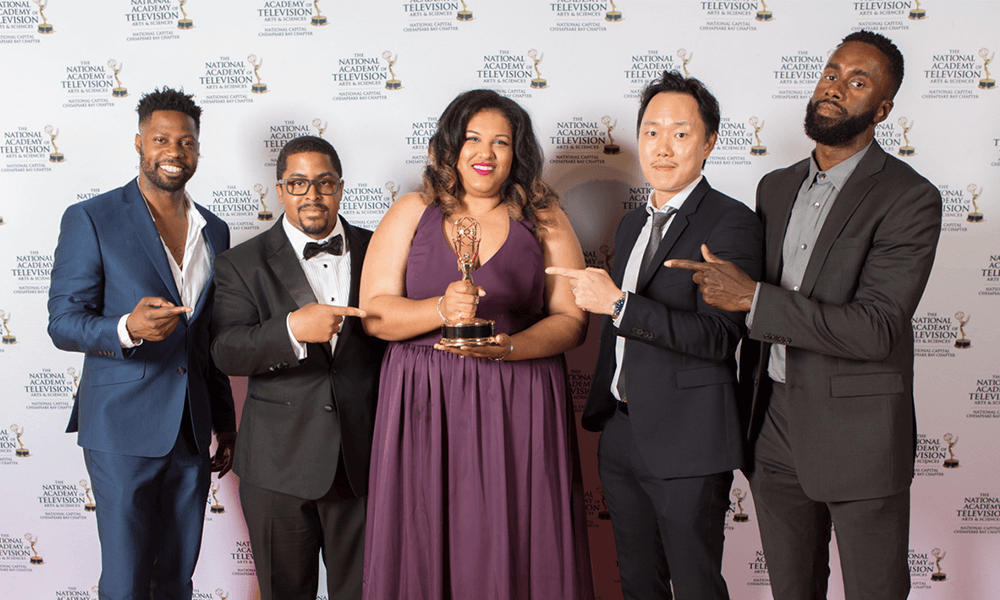 By Charlotte Matherly, staff writer
SMAD alumni at Leading Authorities (LAI) Video in Washington, D.C., won an Emmy this summer as part of a team that produced a four-part documentary, "Preserving Our Nation's History."
The film focuses on artifacts and artwork in the U.S. State Department's diplomatic reception rooms. Specialists routinely service the items for general upkeep and repairs, and the documentary explores that process.
LAI's Creative Director Tiffany Lewis ('11) led the project and said they were approached by the State Department in August 2019. Because maintenance work already started, the team quickly formulated a production plan and shot the film during August and September.
Lewis said talking to the people who worked on each piece created a meaningful connection for her.
"You're kind of sharing this space or this moment and this appreciation with anyone across the street who's able to connect with it," Lewis said. "So that's kind of cool to think about."
Lewis said the items were "a nod to America's history." One item was a tea box. The lady of the house would wear the key to the box around her neck at all times, and if the lady gave a guest the key to unlock the tea box, it was considered a valuable honor bestowed upon them. Lewis, who said she likes to wear keys and old pocket watches as necklaces, said it was interesting to see the reason that came to be in style.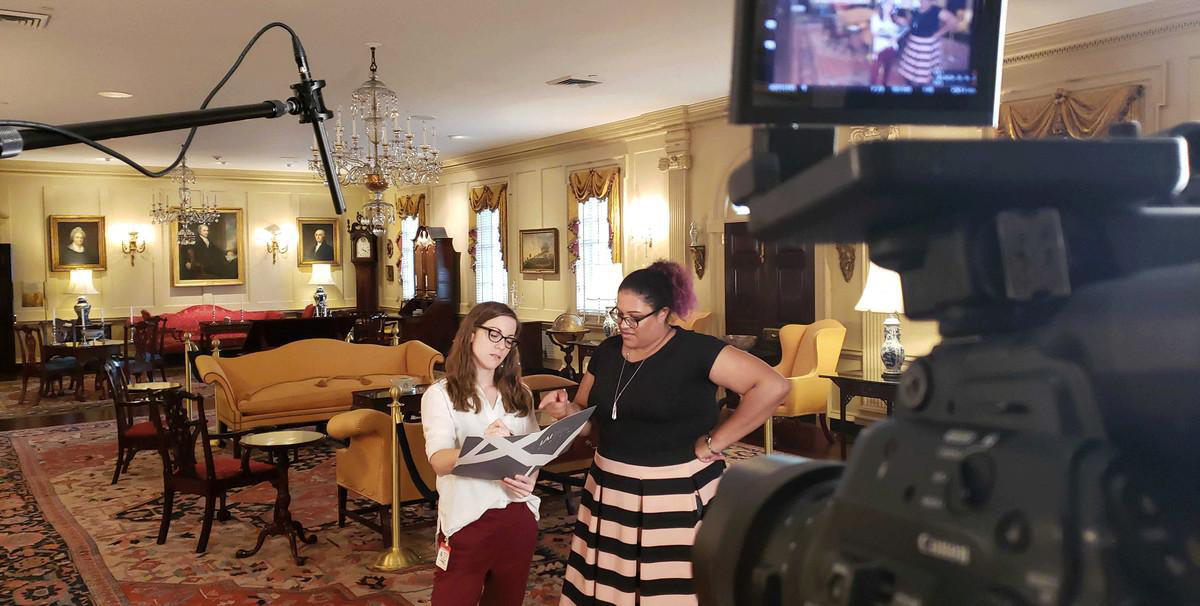 Tiffany Lewis, right, leads the production on site in the State Department's reception room. (Photo provided)
James Loizou ('09) runs and manages LAI Video. He began working at LAI during an internship he had while at JMU — before the firm's video unit was even in existence.
"It definitely speaks to the power of internships," Loizou said. "[It] ultimately became a wonderful professional opportunity as it became my first job, and it has since been — 11 years later — the only company I've ever worked for."
Loizou's role in "Preserving Our Nation's History" came early in the process. As the manager of LAI Video, he listens to clients' needs and determines what his team can do for them. Loizou said it seemed like a small, quick project at first. 
"I never imagined it would blow up into this four-part series, you know, focusing on this whole ensemble of artists so that [the] spotlight's on three of them specifically," Loizou said. "What Tiffany and the team did with everything from the music selection to the color grading to the subject matter, it ends up being one of our most unique projects today."
While he no longer works for LAI Video, Phil Eisenberg ('09) shot the majority of the video at the State Department. He said he used a slider, time lapses, and close-up shots to create "dramatic movement" and capture the refurbishing work over several days.
Eisenberg said filming this process of preserving American craftsmanship was an opportunity he never expected he'd have.
"Honestly, the whole process of being involved [and] going to the State Department in a room that very few people have been allowed into and being able to see it was a really cool experience," said Eisenberg, who now works as the digital communications manager for Vail Resorts in Colorado.
Shortly after the crew finished filming and refurbishments were finished, the State Department reopened the diplomatic reception rooms to the public. In normal times, anyone would now be welcome to visit the rooms and see the display of America's cultural history for themselves. However, the reception rooms have been closed to the public due to the pandemic.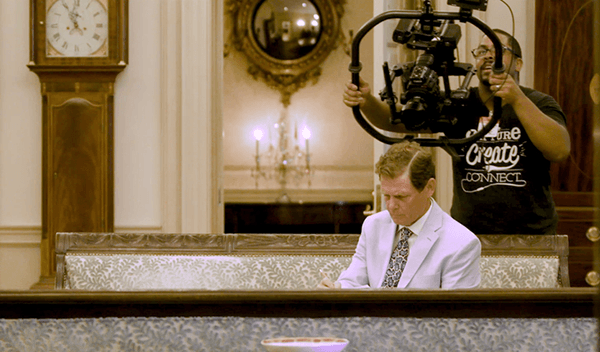 During production, Anthony Jacoway sets a shot in the State Department's building. (Photo provided)
Anthony Jacoway ('08), who came to LAI Video in 2014, described his role in the film as a "utility player." He said his extensive background in documentary filmmaking enabled him to work on many aspects of the documentary, such as filming, editing, and input on creative direction.
"On this one, I had a pretty material role in producing it," Jacoway said. "I felt a lot more sense of pride in winning [the Emmy] for this particular piece, because it's one of my favorite pieces that I've … helped to make in the past few years."
Lewis, Loizou, Eisenberg and Jacoway found out they won the Emmy on Aug. 9. Because of the pandemic, the awards show was live-streamed.
"I was putting down my son to bed," Loizou said. "I had an earpiece in, listening to the webcast … They announced that we got the trophy, so … my reaction was quiet because I was putting my son to bed, but bursting on the inside. As soon as I had access to my phone again, we all started texting and all sorts of 'congrats' emojis were shared."
Lewis, who was new to producing, said she learned a lot from the project in both technical and cultural aspects. There were a lot of artistic choices she made, she said, and she aimed to do what was best from her viewpoint as well as taking the State Department's needs into account.
But she said the best part was exploring the content in a way that other films couldn't.
"I think that's the fun part about documentary work — is that you get to step into another person's lived role and job and perspective and viewpoints," Lewis said. "I think that it allows for a lot of exploration."
Lewis also said she's glad the rooms are open to the public. People can go to a museum and appreciate art, she said, but it's different to see the art in the diplomatic reception rooms and view U.S. culture and diplomacy in a new way.
"America is a very young country," Lewis said. "I think being able to appreciate what we have … is just preparing us to be able to make changes for the future and do better in the future … I hope to see more contributions to the diplomatic reception rooms in the future that will represent a wide variety of opinions and lived experiences."