Media Arts and Design
The Washington Post Sports Writer Kent Babb Speaks about the Art of Reporting
---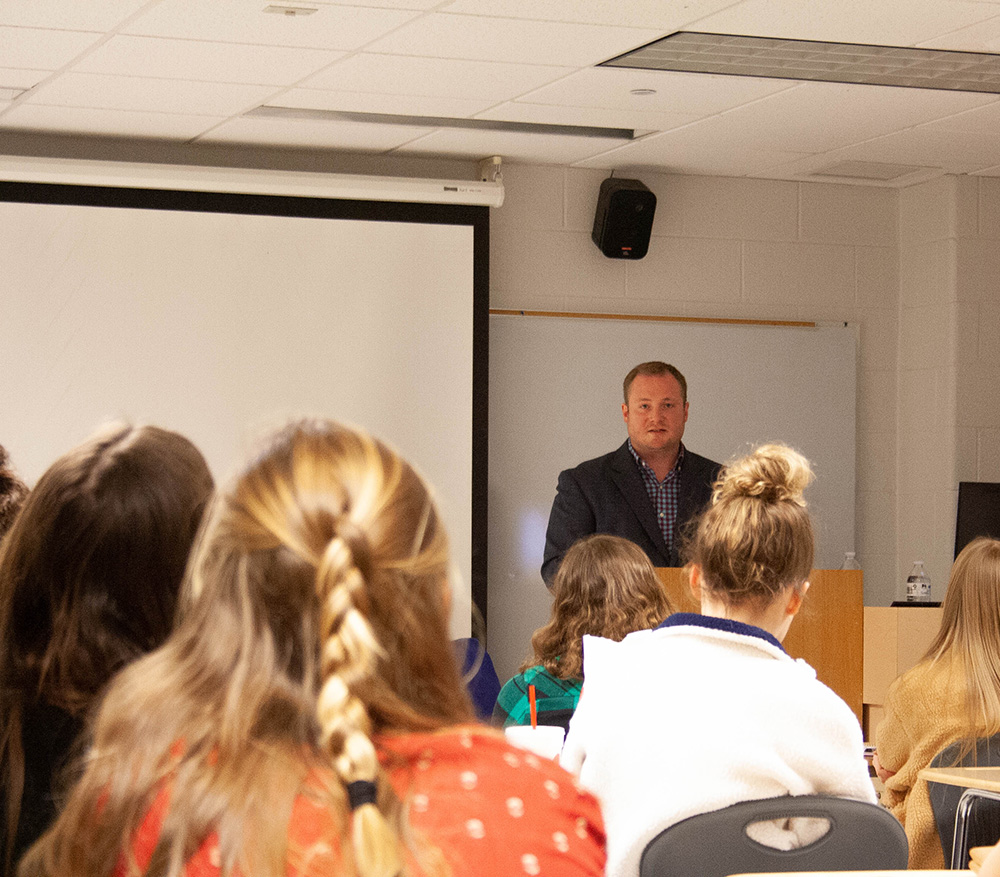 He has interviewed some of the most famous athletes in the world, the roles reversed as Washington Post sports writer Kent Babb fielded questions from a classroom full of SMAD students on January 24, 2019.
Before Babb became a sports writer at The Washington Post 6 year ago, he has been worked at The State in Columbia, South Carolina and the Kansas City Star for more than 7 years.
He specializes in sports' features that examine cultural and societal issues through the lens of sports or what he calls "writing a big story in a small way." His coverage includes the NBA, NFL and college football. Babb talked with students about the different feature stories he has done and his creative process in a talk titled "The Art of Reporting."
"I believe in what I call immersion journalism. Ideally they'll stop thinking of me as a reporter and start thinking of me as Kent," he said.
Babb did admit that his style of immersion journalism has gotten him into a few uncomfortable situations including almost being run over with a car by NFL running back Marshawn Lynch. Although this was a terrifying moment, he was able to see how protective Lynch was of his hometown of Oakland. It also made a thrilling first-person lead to the story, which to Babb, made it all worth it.
"If it means I almost get hit by a car, that's okay," he said.
Babb's piece of advice for the students in regards to approaching an interview, especially about tough topics, was to make it more of a conversation.
This worked well during an interview with Kobe Bryant when Badd got him to open up about his sexual assault allegations by asking him about his favorite movies. When "Kill Bill," featuring a character with the same nickname "Black Mamba", was not on his list of favorites, Babb had to ask why. Bryan then shared that he adopted the nickname to cope with the allegations came out in 2003.
"I asked him without having to ask him," Babb said.
When Babb first started doing sports journalism, he was in it for the sports. The writing always took a backseat. Now he considers the writing to be his favorite part, even if it does frustrate him at times.
"For me, it's my art," Babb said.
Babb's career has taken him all over the world into people's homes and into neighborhoods where he did not feel welcome. However, to him, being in that environment and doing the reporting is the most crucial component of creating the features he does.
"The reporting is the spine of the story and you can't move around without a spine," he said.
For Babb, the heart of a good feature story is a character, and he wants to see these characters from all different sides.  
"I don't think characters are binary. Good or bad," he said.
Throughout his career, Babb used sports and its heroes to create a bigger conversation about issues like gun violence, mental illness and sexual assault. In divisive times, he reminded SMAD students of the power they can have for change.
"I believe that sports can unite us and so can sports writing," he said.