News
It's not about the band, the music, the instrument and all that
---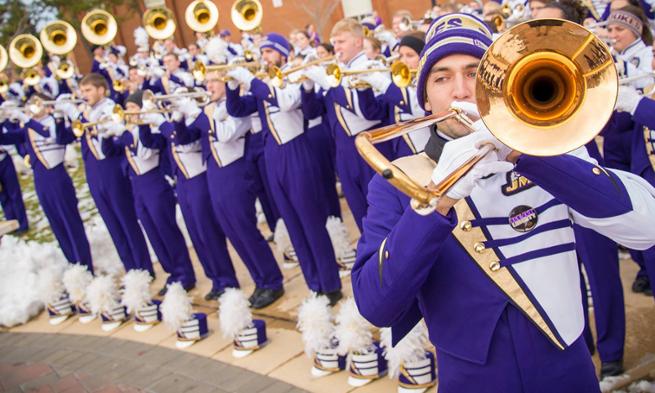 It's really about you
"And now…Virginia's Finest… the James Madison University Marching Royal Dukes!" These are familiar and cherished words as the band takes the field at a Saturday afternoon JMU football game.
Since its founding year in 1972, the band has been featured in numerous prestigious performances including the Vatican in Rome this past New Year's, Macy's Thanksgiving Day Parade in New York City for the third time in 2013, and NFL games in Pittsburgh, Baltimore, and Washington.
But, as many college marching bands focus on national exposure and the shares and likes of Facebook and YouTube, the Marching Royal Dukes have taken a different approach. It is completely student centered, encouraging the students in the program to drive the band in its own direction. And the one its students prefer today is focused on the development of the student, unique life experiences and the leadership skills they can acquire through membership in a large group organization.
One factor that helps the program continually attract new students is the diverse skillsets that the band's students possess: students from every major are encouraged to join. In fact, only about 1 in 5 students in the band is a music major of some type. Because there are no limitations, students ranging from accounting majors in the College of Business, to journalism majors in the School of Media Arts and Design all take part.
"As a psychology major, I learn a lot about how people learn and absorb information, and the individual differences between people. Every person has a certain way they react to information presented to them and I enjoy knowing that there is a way to successfully communicate and help each individual learn their role in the band," stated Kami Aiello, a sophomore clarinet and the band's uniform manager.
"I think convergence of different majors is extremely helpful in the marching band because it allows for people to bond over their majors as well as a communal love for music."Aiello claims, "I think convergence of different majors is extremely helpful in the marching band because it allows for people to bond over their majors as well as a communal love for music."
Leaders from different majors are able to utilize their skills to help improve their own sections, and ultimately the program at-large.
Since official elective class credit is awarded for each student that partakes in JMU's marching band, keeping track of all 450+ people is no easy task. Natalie Coppola is tasked with the feat as the band's Personnel Manager.
"This year we moved over to an electronic system, which had some kinks to work out, but all for the better. Attendance was less of a burden on section leadership, and more in my hands," explained Coppola. "I dealt with absences, course conflicts, and special exceptions so [the director] can focus on the music and getting the band where it needs to go."
Coppola holds strong beliefs that her major has played a great role in helping her build up her capabilities in her position.
"I have no problem talking to the 30 people in my section, or the entire 450-piece band. Hospitality has given me the confidence in my organizational abilities and allowed me to further the position of personnel manager to new heights," she explained.
Jessica Macintosh, senior colorguard member and physical therapy major, recalls that when someone accidentally hits themselves with their flag, "they'll turn to me and say 'you're a health sciences major!'"
Macintosh deals with situations relevant to her line of study on a regular basis.
"Last year, one of our members turned and rolled over her ankle. It was swelling, so I ran to grab her ice, an ace bandage, and a prop to elevate her ankle. It isn't much, but I'll take what I see while I am shadowing therapists and try to help in the band."
"The public health side of my major places a strong emphasis on understanding and respecting the uniqueness of demographics to accommodate to the needs of a specific populous to help better the health of that area," junior, Elise Tessin remarks. 
Working as the cymbal section leader, and a studying health sciences, Tessin states that, "Understanding is so important not only in public health but in every day life when you are dealing with a diverse group of people-like the MRDs. Being cymbal section leader, that understanding helped me to unify a section that had such unique qualities every person brought to the table, which definitely helped us to be a strong section both musically and personally."
A few of the music majors in the program get the opportunity to learn skills that work hand-in-hand with their future, and the marching band acts as the perfect venue to foster experience that they would not necessarily learn in their everyday classes.
"Being able to communicate is important, especially in respect to how members should play their horn, but it's also imperative with internal conflict management, and working with other sections in the marching band to make sure we're all in the right spot," explains music major, Matt Knopp.
"As a music educator, I receive training that allows me to approach music from both technical and artistic perspectives. In the MRD trumpet section, we focus heavily on building good fundamental habits when it comes to playing," states Thomas Graham, a senior drum major.
"In a show environment when the adrenaline is pumping and your body is being put through he ringer, it's helpful to have a basis in proper technique to achieve a great overall sound music education majors at JMU are also given many opportunities to engage in performing and teaching various styles of music. This helps section leadership teach the variety of repertoire that the MRDs play. It's important to create as authentic a style as possible."
Scott Rikkers, director of the Marching Royal Dukes, explains that the growth that the members undergo as members of the band is exactly what the program strives to achieve. The goal is not necessarily to become to the best band in the country, but rather to produce great leaders, and great people.
"The success of our program has nothing to do with how well our shows go, it has nothing to do with how well we perform, it just doesn't," explained Rikkers. "It has to do with how well and successful [our students] do as individuals here at JMU, and then in the real world. It's what you do after you leave the field that's truly important, and that's the beauty of what we do as educators. We're not just educating musicians, we're educating people." 
And many alumni would concur, that being a member of the MRDs changed them in ways that made them better, for a lifetime.
By Chase Maszle ('17), JMU Athletic Bands
Published May 5, 2015
---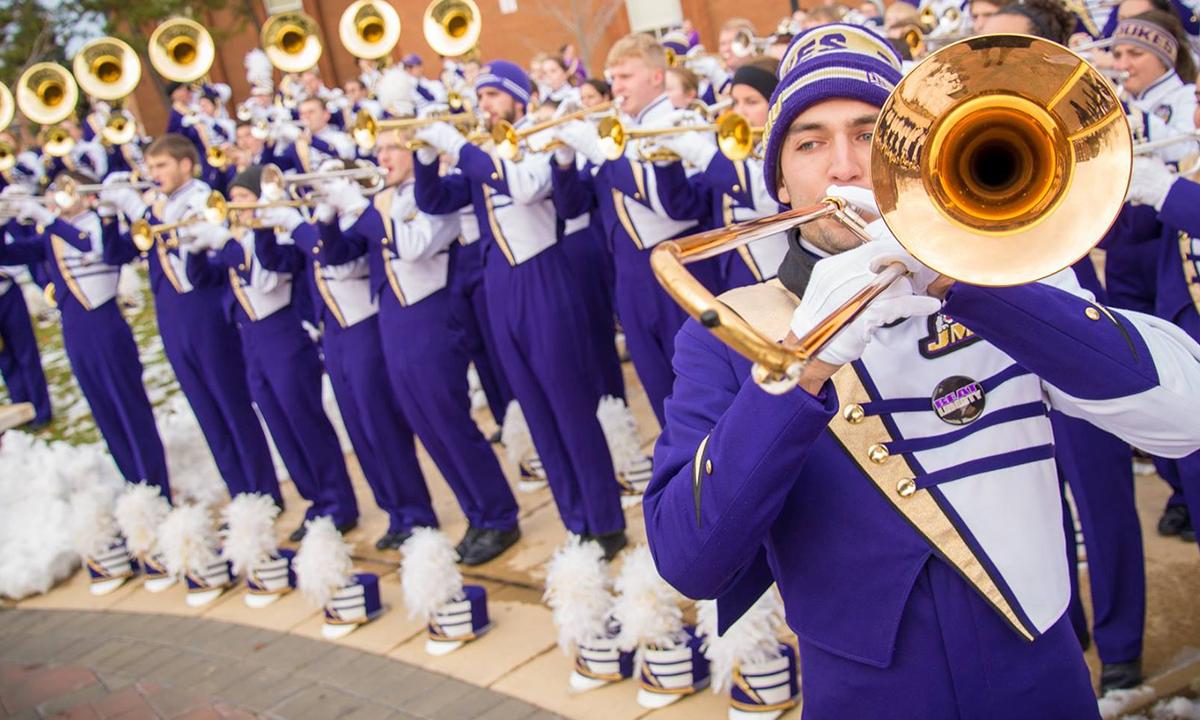 Drum major, J.P. Riley, leads his former section.