News
Undergrads Garner Prestigious National Scholarships
---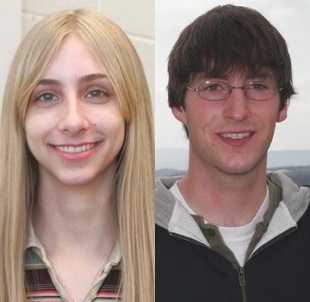 By Eric Gorton, JMU Media Relations
A pair of undergraduates will have a good portion of their tuition paid next year by the Barry M. Goldwater and Morris K. Udall foundations.
Katherine Kross, a rising senior majoring in biology, was one of 317 students from across the nation selected for a $7,500 Barry Goldwater Scholarship while Ryan Powanda, a rising junior majoring in integrated science and technology, was among 80 students selected for a $5,000 Morris K. Udall Scholarship.
The Goldwater scholars were chosen based on academic merit from a field of 1,110 mathematics, science and engineering students who were nominated by faculty from colleges around the country.
The foundation states that virtually all the recipients intend to get doctorate degrees.
Kross said she is interested in both medicine and medical research and is exploring how to balance both pursuits.
This is the second time Kross applied for the scholarship. She received an honorable mention last year.
The scholarship program, honoring Sen. Barry M. Goldwater, was designed to foster and encourage outstanding students to pursue careers in fields of mathematics, the natural sciences and engineering.
Kross credited Dr. Kathryn Layman, an assistant professor of chemistry and a former Goldwater Scholar, with inspiring her to apply for the award. "She saw that same research interest in me and without her, I wouldn't have gotten it. … She was the biggest influence."
Layman said Kross is enthusiastic about lab research and "she keeps me on my toes." She said Kross, who spent some time majoring in chemistry before switching to biology, is a very hard worker who always asks questions and who also co-authored one of her papers.
"I think she's awesome," Layman said. "I think she's going to do wonderful things."
The Udall Scholars were chosen on the basis of commitment to careers in the environment, health care or tribal public policy, leadership potential and academic achievement.
The 80 scholars were selected from among 434 candidates nominated by 221 colleges and universities. Seventy scholars intend to pursue careers related to the environment. Six Native American/Alaska Native scholars intend to pursue careers in tribal public policy; four Native American/Alaska Native scholars will study healthcare.
Powanda wrote an 800-word essay analyzing a speech given by Udall and secured three letters of recommendation from faculty as part of his nomination process. He is interested in working as a researcher in the renewable energy field or working as a liaison between the scientific community and policy makers.
Powanda was nominated by Dr. Chris Bachmann, an assistant professor of integrated science and technology. In his nomination letter, Bachmann stated that Powanda "is the most promising young student I have encountered during all my years in academia, including the time I spent at Rutgers University, Penn State and the University of Virginia. His dedication to the environment is uncompromising and his ability to organize the students and present policy considerations to the administration is unparalleled."
Powanda, who has been chosen to serve as a student representative on Dr. Linwood Rose's Presidential Commission on Environmental Stewardship and Sustainability, said Bachmann's enthusiasm about environmental issues and his ISAT classes piqued his interest in the environment.
Powanda is founder and leader of the JMU Clean Energy Coalition and a member of the EARTH Club, the Society of Automotive Engineers, the Environmental Business Club and the Association of Energy Entrepreneurs. He also is a winner of the MTV Break the Addiction Challenge and the student representative to the Sustainable Campus Work Group and the Center for Energy and Environmental Sustainability.