Irina, from international athletics to JMU!
News
---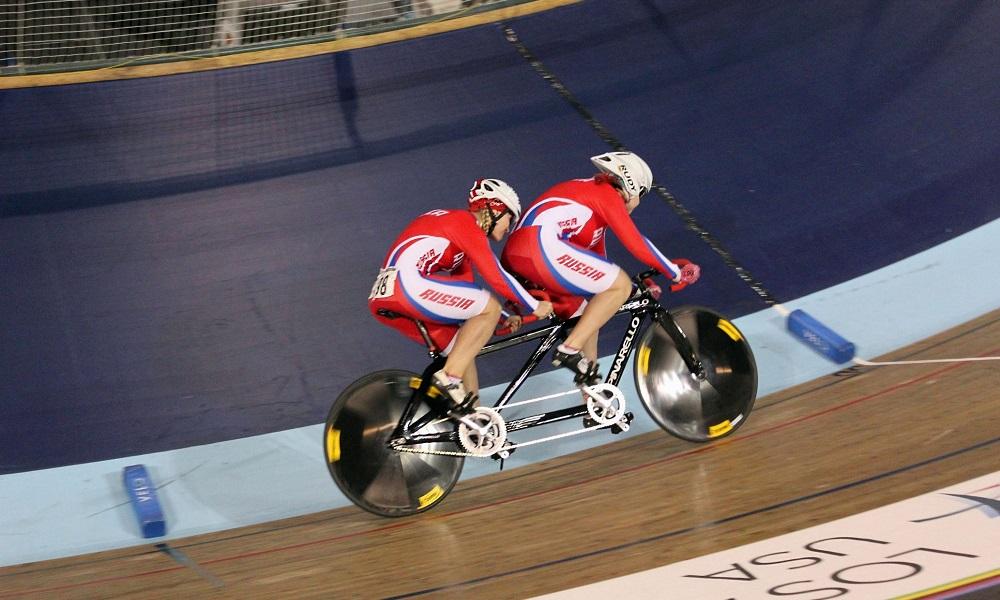 SUMMARY: Irina Perfilova, a national record holder, an internationally-ranked -Olympic-level athlete, and now a JMU Sports and Recreation Leadership master's student.
---
By Mohamed Serry, '23
Adult Education & Human Resource Development, M.A. Student
It all started with a coincidence. When Irina Perfilova was eight years old, she was a runner on the track and field team of her school.  An injury sent her to the doctor, whose office was in a complex with a cycling track. She noticed track cyclists practicing and immediately was fascinated by the sport.
Irina loved the sport of cycling, and she won her first competition as a young girl.  From there Irina went on to participate and win national, European and international competitions. In 2016, after 16 years of competing, Irina needed a new challenge and a new motivation as a cyclist, that was when she was chosen by the Russian Cycling Federation to start a new career as a pilot in tandem track cycling.
In this Paralympic sport, the pilot cycles in tandem with a visually impaired athlete. Irina was selected as a pilot in tandem track cycling due to her great cycling experience, and got introduced to her partner who was a visually impaired cycler and from that moment on they became a team. No surprise-this was the start of another success story.
Irina and her partner won the Russian national championship during 3 consecutive years, 2016, 2017 and 2018. They went on to represent Russia in the world championship in 2017 and 2018, and their ranking qualified them to participate in the Paralympics of Japan in 2020.  Irina still holds the national record in tandem cycling.
In 2019 when they were preparing for the international championship and the Paralympic games, Irina's partner was not able to compete, Irina was faced with the possibility of no longer being eligible to compete in the Paralympics.
Irina stated "for me, it was a disappointing situation, where I was not able to pursue my dream and there was nothing I could do about it, but at the same time I totally understood the circumstances and decision my tandem cycling partner took, and was not planning to give up anyway"
After taking some time off during the beginning of the COVID-19 pandemic, Irina decided to go in another direction.  She found a new cycling partner and decided to try road tandem cycling.  She and her new partner, who was a not a professional athlete, had to begin training and become more physically fit.
Before the national competition in early 2021, Irina and her partner trained at home with just the equipment and online sessions.  They won 3rd place in their first competition in tandem road cycling, and in June 2021, came in first in another national competition in Russia.
"After this final championship, I decided to pursue another dream that I had, and here I am now in JMU!".  says Irina.  While competing as an athlete, Irina was also earning her bachelor's degree in physical education. Her thesis was about the tandem cycling program with the Russian Cycling Federation. After graduation, she applied for a Fulbright Scholarship to study in the US. Which brought her to JMU studying in the Master's in Sport & Recreational Leadership program.
"The first thing that impressed me when I started my masters, is that we have academic experts teaching us, but also we have a lot of professors, doctors and TAs that were athletes. This actually added another dimension to my experience here, we are not only learning from academic experts, we are also learning and hearing about the experiences and stories of ex athletes and sports champions", said Irina. 
She continued, "another thing that was great that I found here, is that those teachers don't want to just give you the knowledge and keep talking, a huge part of our classes and meetings is about us sharing our experiences and point of views about different topics or ideas, which is a thing that I wasn't used to previously, but surprisingly this got me to be more engaged, enjoy the classes more and benefit even more than I ever did before".
And about her dreams, Irina said "Right now, my objectives are to keep learning and enjoying this greats master program.  Also to enjoy the great facility of the University Recreation Center, which I was actually shocked of how big and diverse it is.  This kind of facility is more than helpful for an athlete to maintain an athletic form while also working on your studies."
"I am planning to have my thesis about how to prepare a disabled person to have an athletic career, in terms of diet, physical training, mindset and mental health.  I am really passionate about mixing my athletic experience and working with people with disabilities to create a better future for them through sports".
Irina Perfilova is an example of a student whose hard work, dedication, success and perseverance makes her a great addition to the JMU community.