News
A Tribute to Naomi Long Madgett
---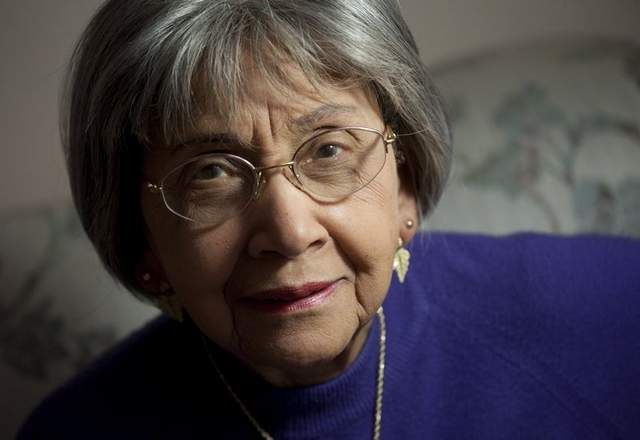 We have lost another gem of American poetry, Naomi Long Madgett (July 5, 1923-November 6, 2020). Honored with a Furious Flower Lifetime Achievement Award in 1994 at the first Furious Flower Poetry Conference, Madgett devoted her life to teaching, writing poetry, and helping hundreds of African American poets achieve recognition for their early manuscripts by publishing them through Lotus Press. I remember her telling me at that first conference that she had established the press in 1972 and that many of the poets at Furious Flower had first published there. I talked with her many times after that when she expressed her concern about whether she was going to be able to continue to do the work required to keep the annual poetry prize and the press going. But year after year, into her early 90s, with dogged determination, she pursued excellence as its sole publisher/editor.
Somehow she also managed to have a truly remarkable career as a poet and educator. In 2001 Naomi Long Madgett was named the Poet Laureate of the City of Detroit. She received the 2012 Kresge Eminent Artist Award and was the author of ten books of poetry, including Exits and Entrances (1978) and Octavia and Other Poems (1988), and two textbooks and editor of two anthologies. Her poems appeared in numerous journals and more than 180 anthologies both here and abroad. Her career as a published poet spanned more than sixty years. She continued to serve as publisher/editor until 2015 when Lotus Press merged with Broadside Press, becoming what is now Broadside Lotus Press. Former HBW staffer Morgan McComb, as a part of her graduate work at the University of Kansas, captured significant events in Madgett's life in the following GEMS video:
https://mediahub.ku.edu/media/NLM+-+Draft+5.m4v/1_xq8zxwr9
It is fitting that in the present atmosphere of renewed hope for our democracy and an impassioned struggle for social justice that we would have Naomi Long Madgett remind us in her most anthologized poem that we can't stop now.
MIDWAY
Naomi Long Madgett
I've come this far to freedom and I won't turn back
I'm climbing to the highway from my old dirt track
I'm coming and I'm going
And I'm stretching and I'm growing
And I'll reap what I've been sowing or my skin's not black
I've prayed and slaved and waited and I've sung my song
You've bled me and you've starved me but I've still grown strong
You've lashed me and you've treed me
And you've everything but freed me
But in time you'll know you need me and it won't be long.
I've seen the daylight breaking high above the bough
I've found my destination and I've made my vow;
so whether you abhor me
Or deride me or ignore me
Mighty mountains loom before me and I won't stop now.
Rest in peace, my gracious and generous friend. Your legacy is intact.
Joanne V. Gabbin