News
In Memoriam: Monica A. Hand (1953-2016)
---
by Lauren K. Alleyne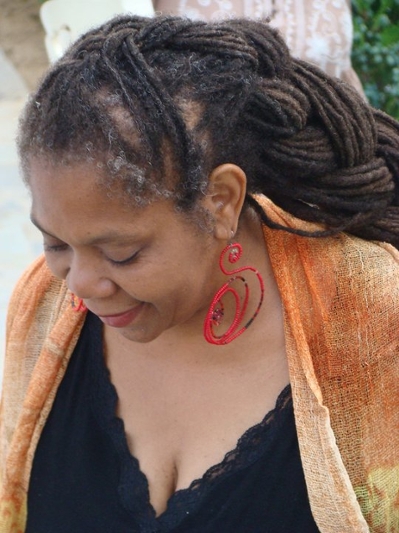 On December 16, 2016, the world lost a light. Monica Hand was a poet, playwright, scholar, retiree, and traveler. She was a mother, a sister, and a grandmother. She was a teacher and a maker.
She was beloved.
I first met Monica on an Athenian rooftop in 2011. We were Cave Canem Fellows at the University of Missouri's Writing Workshops in Greece, and we were paired as roommates for the Athens portion of the trip. Amid the heat and bustle of Athens, and at the end of our long days of exploring the ancient city, we settled into our room and talked, getting to know each other, or else we sat in silence, writing. She was an anxious traveler, had trouble sleeping, worried about the food and the heat, but she was determined and brave, and her courage won the day every day. She put her hat on, grabbed her notebook, and headed out into the unfamiliar.
On the island of Serifos, where we spent most of that month, she held a spontaneous book-making workshop. I let her know I was not a craft-y person but wanted to sit in anyway. She was patient, funny, and even then an excellent teacher. Under her tutelage, my fingers flew—measuring, cutting, folding, stitching—I made 14 books and, as she said, made my teacher proud. The island is where I first heard Monica's work and learned about her interest in Japanese form. She read haibun and haiku, demonstrating how these tight constructs could hold a world of meaning, indeed, a life:
Poet:
Gonna act up
Shake the blues
'til they shake me back. 
 (from "So I'm Gonna Leave You the Blues")
Monica was born in Newark, New Jersey in 1953. She spent 30-odd years building a career at the U.S. Postal Service, eventually retiring as a public relations officer. But writing was her true calling; when I brought her to read at the University of Dubuque, she told my students, "I always knew I wanted to write." She earned an MFA in Poetry and Poetry in Translation from Drew University, and she was pursuing her PhD in Creative Writing at the University of Missouri-Columbia. She was also a part of several literary communities, including Cave Canem, Poets House, and Women Writers in Bloom. She was a founding member of Poets for Ayiti, a collective of writers "committed to the power of poetry to transform and educate" whose work benefitted literary institutions in Haiti.
Me and Nina, Monica's debut collection of poems, was published in 2012 by Alice James books. Days before her sudden collapse, she announced on Facebook that her second collection, The DaVida Poems, would be forthcoming in April 2018 from Alice James, as well.
As Monica embarks on yet another journey, her words remain an inspiration and a call to persist in the struggles of life, to be our truest, brightest selves.
all I have ever wanted
is
to be
the full span of her wings
my wings
…
my wings my wings
fodder in my wings
dust in my brain

can't close the sky
(from "Fodder in the Wings")
Photo of Monica Hand taken in Serifos, Greece (2011) courtesy Natasha Marin. All rights reserved.
Rachel Eliza Griffiths interviews Monica Hand in 2016: