Finance
Banking industry veterans share insights borne of experience
---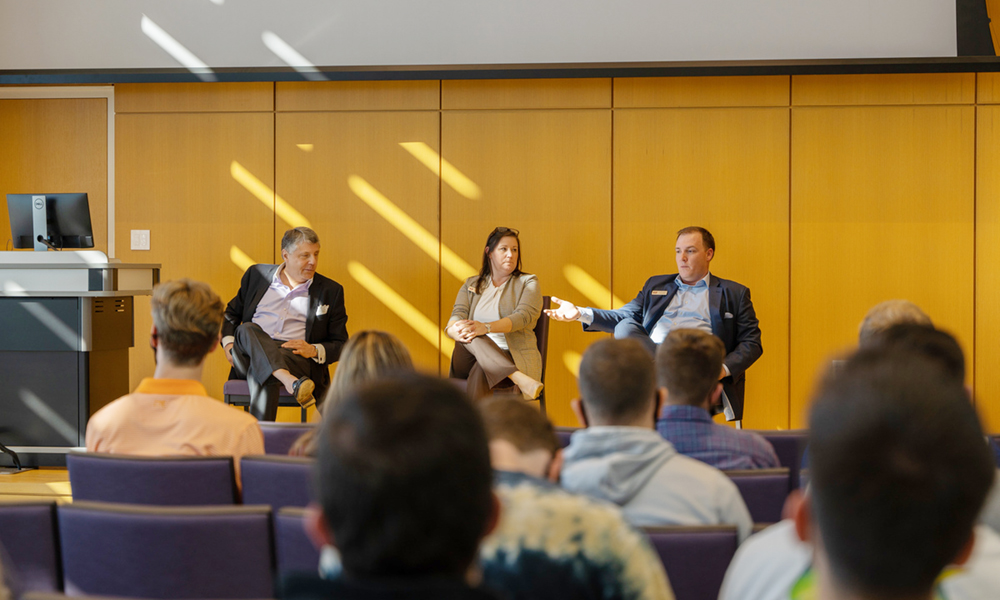 SUMMARY: Finance Department hosts panel discussion focusing on jobs and careers.
---
Three local banking executives fielded questions on topics ranging from the impact of technology on the financial services industry to the importance of work/life balance, when they took part Monday in a panel discussion attended by more than 30 upper-level Finance majors enrolled in Dr. Carl Larsson's FIN 460 class.
Titled "Careers in Commercial Banking," the 75-minute session featured:
Barry Henderson – a former senior executive with regional banking powerhouses SunTrust and BB&T, as well as with several community banks in the Shenandoah Valley;

Katherine Preston − senior vice president and Shenandoah Valley market executive for F&M Bank.

Garth Knight − executive vice president and chief lending officer for F&M Bank.
The three panelists "represented a good slice of the commercial banking sector," said Larsson, recipient in 2020 of the College of Business' Distinguished Teacher Award. In addition to the Finance majors from Larsson's FIN460 class, the session was open to any JMU student with an interest in a banking career.
"There's nothing wrong with a few seconds of silence intervening before you respond to someone."
Barry Henderson, senior banking executive
"It's neat to see someone start out with just a business plan, and grow it into something fabulous," said Preston, when asked what she regards as the most satisfying part of her job. "There are a lot of things that we, as bankers, can do to make their dreams possible."
Henderson emphasized the importance of communication in assessing which job skills are most valuable to a banker. He said clear, succinct self-expression, whether orally or in writing, was essential to the job effectiveness of any financial services professional.
For many in the industry, however, the skill of patient, thoughtful listening is the hardest to master, said Henderson.
"Type A personalities tend to want to get to the answer more quickly," he said. "But there's nothing wrong with a few seconds of silence intervening before you respond to someone."
All of the panelists acknowledged the transformational impact digital technologies have had on banking generally.
"But does that mean that branches are going to go away, or that tellers are going to go away?" asked Knight. "No − there's always going to be a need for people to have face-to-face contact."