College of Business
CoB community welcomes return to in-person commencement
---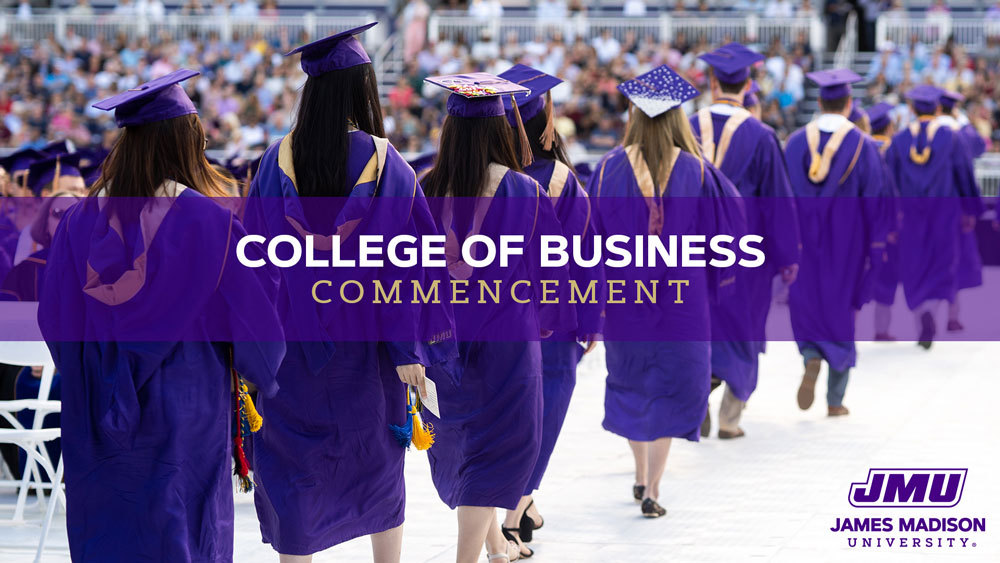 As JMU planned its commencement for Spring 2021, the community embraced the news that each college could celebrate with an in-person ceremony, enhanced by a larger JMU event that would be presented virtually.
Following a brief rain delay, the College of Business welcomed over 900 undergraduate students to Bridgeforth Stadium, who proudly left Zane Showker Field as new alumni following the event.
"You represent the next generation of leaders of businesses and organizations of all types," Dean Michael Busing said during his remarks. "Whatever you do, I would encourage you to always follow your dreams. But remember this quote from General Colin Powell: 'A dream doesn't become reality through magic; it takes sweat, determination and hard work.'"
Busing also addressed the unique educational environment they all shared in their final year as undergraduates. "I would be remiss if I did not recognize that the last year of your JMU experience was not what anyone would plan for you. But I believe that what you learned during this experience will outlast the memory of the experience itself," he added. "Whether you know it or not, by being a student at James Madison University during a global pandemic, you likely developed an entrepreneurial mindset which will serve us all well in the future as we rely upon you to bring innovative solutions to the table."
From the graduate programs at the CoB, the School of Strategic Leadership Studies, Master of Business Administration, Master of Science in Accounting and Sport and Recreation Leadership master's program saw more than 125 students add a post-bachelor degree to their educational CV over the graduation weekend.