Marketing
Marketing class lends skills to arts education non-profit
---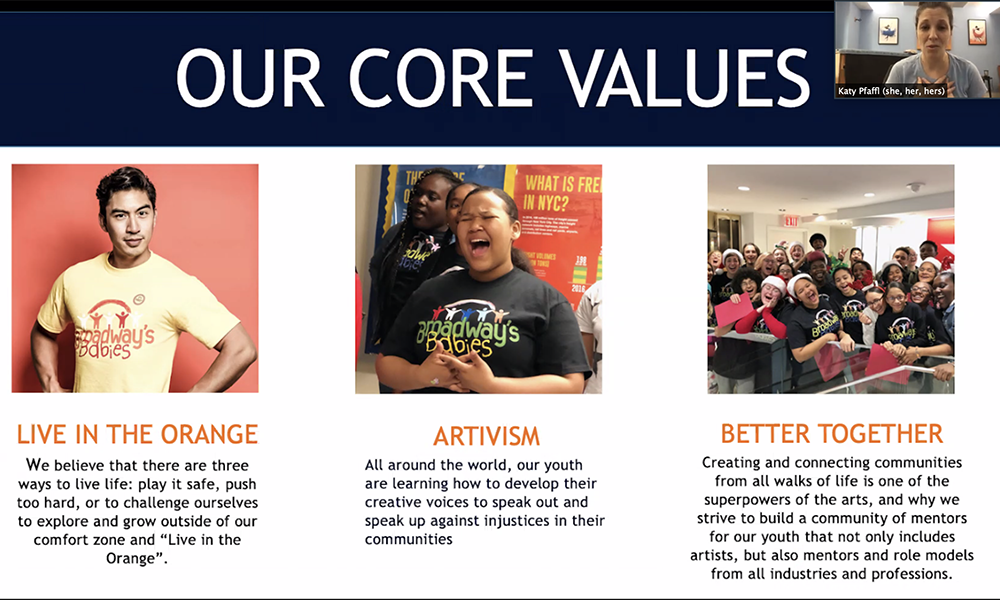 Learning social media marketing is a hands-on endeavor, and that's precisely what students in professor Kelly Naletelich's Marketing 410 class are doing. Each semester, the class partners with a client to develop strategic social media marketing plans, and this semester's client is New York City-based Broadway's Babies, which provides arts education to youth across New York, India and Haiti.
The MKTG 410 class recently met via Zoom with Benjamin Houghton, co-founder and executive director, and Katy Pfaffl, co-founder and artistic director, to learn more about the organization. Their goal is to create a bridge between the Broadway community and underserved youth, to open the doors through which tomorrow's leaders can emerge. Their website explains, "The path toward racial, gender, sexual and socioeconomic equity in our society begins with equity in our schools. The compassion, teamwork and critical-thinking skills that studying the arts provides belong to all youth, not just those who can afford it. Providing access to a complete education - one that includes music, dance, and theater programs - is how we work towards a better tomorrow for all of us."
Students will spend the rest of the semester creating social media marketing plans to present to Broadway's Babies, including an influencer marketing component using leading industry platform Klear to research, vet and select potential influencers.
According to Naletelich, "Providing the opportunity for students to work hands-on with an industry client enables them to apply their knowledge to create meaningful experiences and allows them to build new skills and strengthen their resume. It's rewarding to see students passionate about engaging in a project that creates a lasting impact, especially when that impact helps a company continue to offer valuable arts education to underserved youth."