Delivering hope
JMU Supply Chain Club helps distribute medical supplies to African hospitals
Business Management
---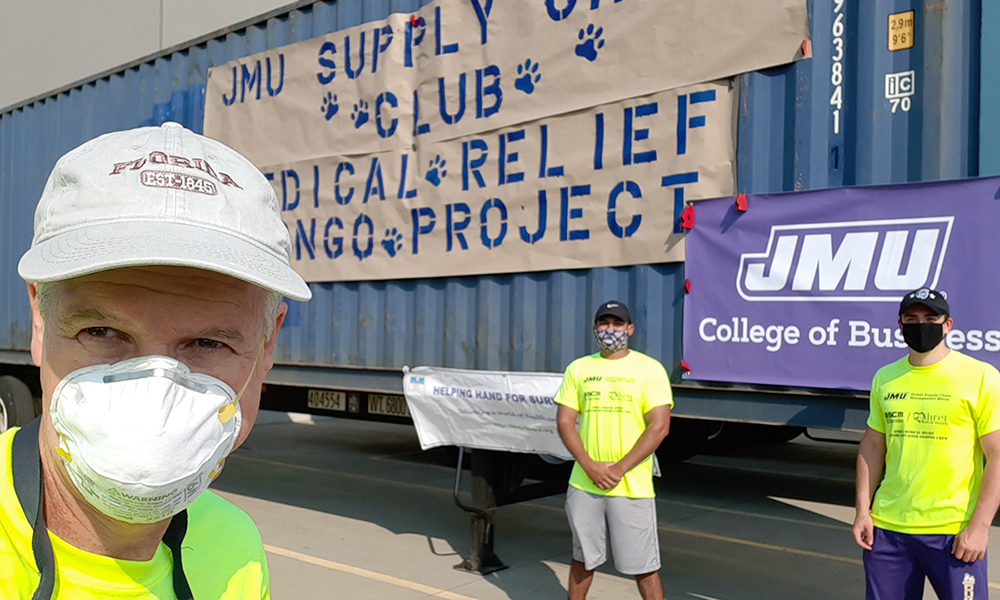 SUMMARY: The JMU Supply Chain Club donates medical supplies to under-equipped African hospitals. Members of the club worked together with local donors to gather and ship two 40-foot containers filled with necessary medical supplies.
---
Achieving a goal is always cause for pride in a job well done, especially one that involves a global humanitarian effort. But meeting that goal and surpassing it by 100%? That's how Dukes do it.
The JMU Supply Chain Club team and its adviser, professor of management Bill Ritchie, recently loaded the second of two 40-foot containers filled with medical supplies destined for Africa. Along with Dr. Mark Smith, executive director of the local nonprofit Mihret Medical Supply Group, the group was finishing up a humanitarian project a year in the making, initially called the Congo Ebola Medical Relief project.
In Fall 2019, the JMU Supply Chain Club (officially the Association of Supply Chain Management, Shenandoah Chapter, formerly APICS) leadership team met with Smith and developed the goal to source, store and ship medical equipment and supplies to African hospitals dealing with the Ebola crisis. At the time, the team hoped to find enough supplies to fill one 40-foot shipping container.
Since a vital element for supply chains is warehousing, the group started by approaching Matchbox Realty, which donated space to warehouse the supplies. Five months later, the students began filling a new, larger space provided by Interchange Group, with growing donations from Sentara RMH Medical Center in Harrisonburg, and Carilion Clinic in Roanoke, Virginia.
As the COVID-19 pandemic began, international borders in some African countries were shut down and warehouse security increased, causing concern about the viability of meeting the project's goals. The logistics of the stateside effort changed as well.
"Our network of management was initially face to face," Ritchie said. "We could meet and talk about detail, but all of a sudden we were working remotely. We might as well have been in different countries. We had to consider safety."
During this time, however, Smith identified additional medical equipment needs in Ethiopia and added that country to the project's original goals.
In early August 2020, club members Bhumik Shah and Jess Lewis, along with Ritchie and Smith, loaded the first of the 40-foot containers with supplies, and within a week it was on its way to the port at Djibouti and ultimately inland to Ethiopia. The second full container was sent to the Democratic Republic of the Congo.
Mihret executive board member Dr. Tilahun Goshu, an Ethiopian national who is affiliated with the Ethiopian hospitals, was on hand to help identify critical equipment needed for the shipment.
"African health systems, especially in Ethiopia, are under-equipped. Many people are deprived of optimal health care services, and as a result, millions do not have access to health care," Goshu said. "The Mihret and JMU Supply Chain partnership is essential for introducing, distributing and maintaining technical solutions and providing an extended economic improvement network in Ethiopia. This partnership can tackle poor practice in supply, transforming the substandard health service and positively affecting its health outcomes."
From a student perspective, Lewis was enthusiastic about the venture, saying, "Our project with Mihret Medical is a great experience for the members of our club. It provides the opportunity to learn about supply chain operations while giving back to people in need."
Ritchie is pleased with the real-world experience the student team has acquired in this new venture as well as new content for his teaching. He is working with Geollect, a British geospatial intelligence company co-founded by Cate Gwilliam ('03), who donated programming time to create an app to track the cargo vessels and incorporate the information in his supply chain GIS lessons. Ritchie also wrote a simulation for exporting to use in class that uses Geollect data to teach students how vessels are tracked using satellites, and walks them through the export documentation needed for the items to move internationally.
The JMU Supply Chain Club will continue the project in future semesters, and the learning opportunities won't end there. "My dream for this project is that it becomes [an] ongoing long-term effort that will yield significant returns for our JMU students and the broader community," Ritchie said.
In fact, JMU has allocated 1,000 square feet of storage space for soft supplies inventory. From there, students will do inventory and repack goods, then send them to the main warehouse to be loaded into containers. Ritchie's hope is that through donations and investment, the group won't have to rely on the goodwill of Interchange Group's donated space.
Word of the project even reached Ethiopian ambassador to the United States, Fitsum Arega, who traveled to Harrisonburg in December 2020 to see firsthand the quality and types of supplies available. As a result of the meeting, the team received a request for two more containers for Ethiopia, and plans to deliver them in Spring 2021.