Finance
Athlete lands win at honor society summit
---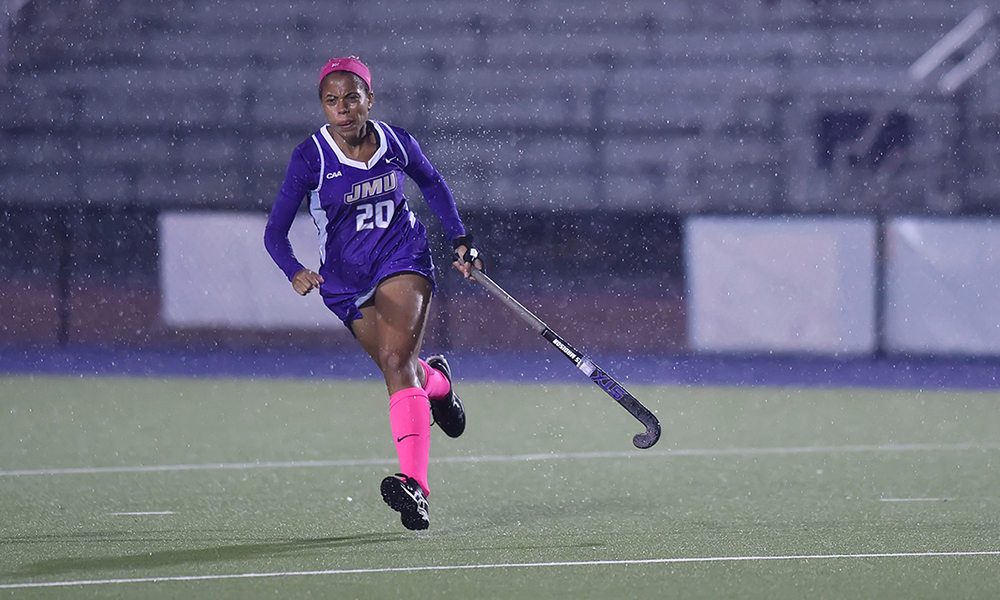 Above: Finance major Erica Royal during a JMU field hockey game
---
Senior finance major Erica Royal is used to competing. Recruited out of high school to join the JMU field hockey team, she spent all four of her years here as a student athlete. "It was challenging and I think it definitely shaped me in a way that's going to prepare me for the real world," she says. "You might have a tough day in the classroom and might have tough personal things going on, but regardless, you have to step on the field and perform."
This sort of thinking has allowed her to add minors in both Spanish and Chinese to her degree in finance. "I love languages," she says. "I was able to study abroad over a summer with the College of Business, and we went to Switzerland, Netherlands, France and Belgium. Then I went to Spain afterwards."
So why did she pick those two languages to study? "Throughout middle school Spanish was pretty standard, so I studied that and knew I was going to study that in high school," she explains. "My high school offered Chinese also and I had space on my schedule, so I said, why not? I took both up to the AP level and when I got to JMU, I placed out of all of the entry level Spanish and Chinese courses."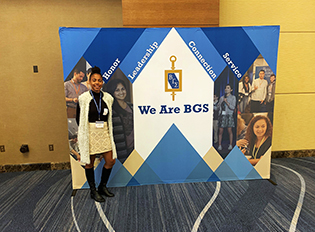 Adding to her field hockey ribbons, Royal recently chalked up another win, this one as a member of a team participating in a case competition at the 2019 Beta Gamma Sigma (BGS) Leadership Summit in Chicago. Founded in 1913, BGS is an honor society for students worldwide who study business; Royal has been a member for two years. Their annual summit is a chance to get intensive training in career and leadership development over the course of four days. She and five other CoB students had the opportunity to represent JMU, with the CoB covering their travel costs.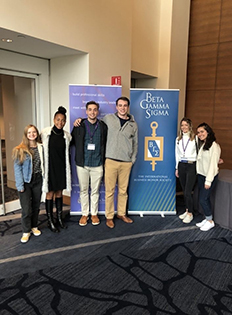 Her winning team, like all the teams, was intentionally made up of students from different schools. For Royal, that was a plus. "When else would I have been in a room with students from Hong Kong and Saudi Arabia? That is an invaluable aspect of what I took from the conference."
Royal also drew inspiration from a talk given at the summit by Mawi Asgedom, founder of Mawi Learning. "His family were refugees that came to America from Ethiopia," Royal explains, "and he struggled with reading in school and assimilation, and not seeing people that look like him, especially in the curriculum. He felt ostracized because he didn't feel represented."
Asgedom's company designs educational software to help drive academic growth and student well-being through the application of Social Emotional Learning, something that helped him as he struggled with his own social and academic adjustment. "He talked about how he went from kind of being considered the dumbest kid in class to being a Harvard grad," she continues, "and eventually being the CEO of his own company."
Another win Royal can count is having a job in place when she graduates in May 2020. She began the process with CAP'sHandshake initiative and an on-campus interview with the Carlyle Group, and was offered a position as a fund management analyst after a day-long interview visit to their Washington D.C. offices.
Even in this adventure, her eyes are open for how she can do more. "Within the private equity space, there is a lot of talk of how we can be socially responsible and environmentally responsible," she says. "There are a lot of people that investors go to that can make them money. But what's that other factor?"
Royal thinks back to one of her finance classes. "In Finance 371 with professor Carl Larsson, we talked about specifics of investing, but also how we can be better investors," and in a final reflection on winning she adds, "how we can be more competitive and make sure our governance is responsible as well."