Business Management
JMU team wins HR competition
---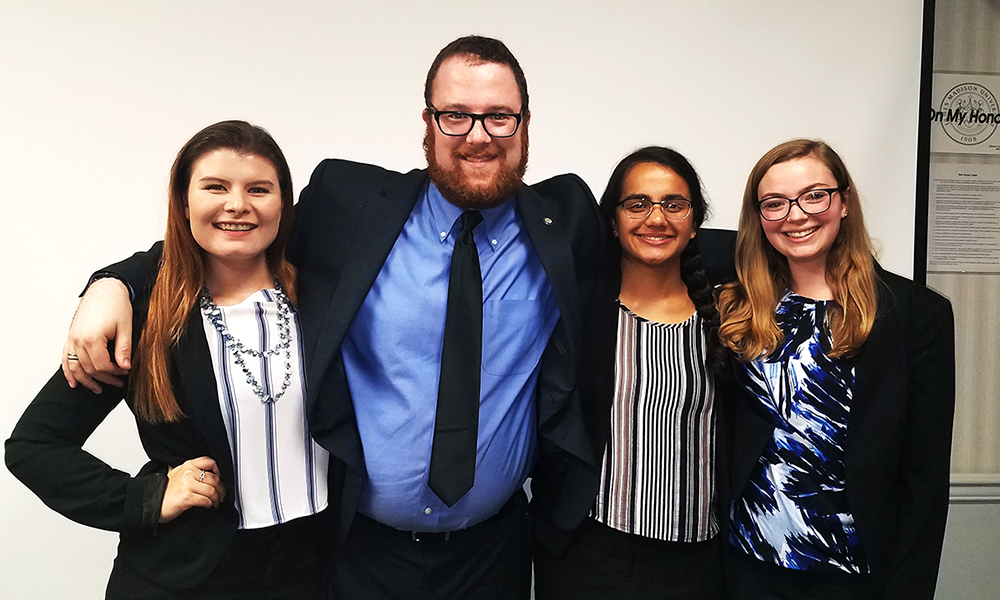 Pictured (L-R): Katherine Kunkle, Kenneth Williams, Gurpreet Sandhu and Tess Atkinson.
---
On Nov. 8, the JMU Society for Human Resources Management (SHRM) student team snagged top prize in the inaugural VASHRM Student Competition. The Virginia state competition took place virtually, with each group presenting 'live' from their own campus using the WebEx platform. The presentation had to include current research from at least five credible and scholarly sources on a topic of the team's choosing. The JMU group, consisting of Gurpreet Sandhu, Katherine Kunkle, Tess Atkinson and Kenneth Williams, chose to present on "HR Managers Combating Sleep Deprivation."
The prize for the winning team is registration and lodging for the members to attend the VASHRM Annual Conference, which takes place April 7-10, 2019. At the conference the team will present an extended version of their presentation during a session. It will be a great opportunity for the students to gain additional presentation experience, as well as engage in networking and professional development opportunities.