Marketing
Two all-female JMU teams are finalists in international marketing challenge
---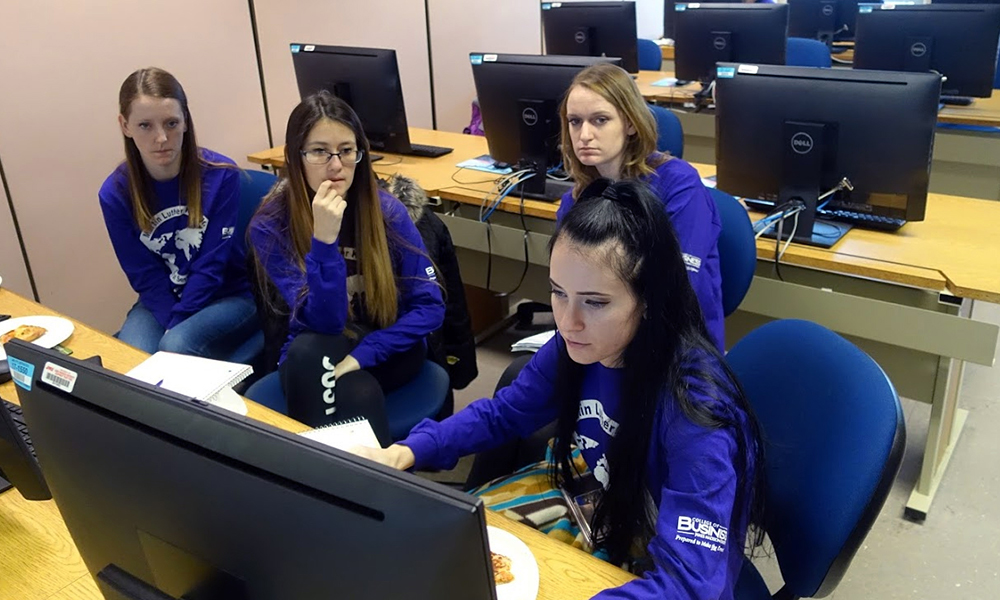 SUMMARY: One team takes extra honors using cutting edge data visualization platform.
---
JMU had always done well—very well, by any measure—in the popular annual student Google Online Marketing Challenge. "We won more titles than any other school in the world," explains marketing professor and interim department head Theresa Clarke. "We have great students, and a strong alumni base that comes back and contributes in terms of giving us ideas and helping us stay current. We also have a small, selective class that students have to apply to get in to." 
So when Google stopped administering its academic challenge, Clarke joined an international group of academics to found the Global Online Marketing Academic Challenge (GOMAC). The challenge asks student teams to work with clients to design, execute and analyze a digital marketing campaign using platforms such as Google's AdWords, Amazon Advertising and Facebook Ads. The teams in Clarke's class got to work with Google Data Studio (GDS) data visualization software—a cutting edge resource currently in beta testing. 
Clarke is enthusiastic about this. "Any time I told one of my agency partners or alumni that my students were learning about GDS they would just say 'WOW I don't even know GDS,' so it is one area in which I feel my students are a little ahead of the industry. JMU is doing some cutting edge things here." 
One of the two JMU finalists was a team consisting of Jennifer Helenek, Greta Wolking, Rebecca Kilcoyne and team captain Haley Nininger, which also took Honorable Mention for Excellence in Google Data Studio Reporting. They created a campaign for Valley Pike Farm Market, and at the end analyzed the results to determine the kinds of marketing changes Valley Pike could make in the future. The other team of finalists was comprised of Alex Goldfarb, Nicole Swindell, Megan Charnovich and team captain Jami Adler, whose challenge client was Shenandoah Joe. 
The GOMAC experience and learning the GDS visualization platform was well worth the effort. According to Nininger, "Google Data Studio is one of the most versatile programs I've worked with." She continues, "I learned numerous valuable skills that I can take with me. Data and analysis are becoming a bigger aspect of marketing, and everyone wants to make sure you can prove your results. Learning about the analysis, data collection, visualization and reporting that GDS allowed me to integrate into one helped me to feel as though I'll be prepared in a career or professional setting when I'm executing a campaign and want to give the results to upper management."