College of Business
Undergraduate Research Offers Deeper Learning Opportunity
---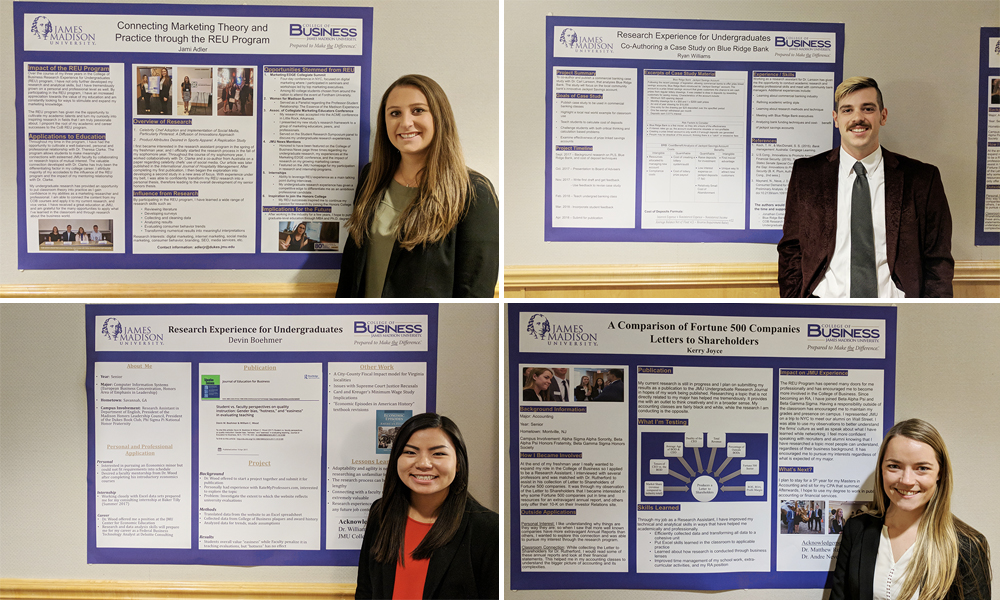 SUMMARY: JMU College of Business' Research Experience for Undergraduates (REU) Program is another significant value-add for business majors.
---
Photo: Students share their research at a recent Board of Advisors meeting.
While commonplace in STEM, business majors don't often have the chance to participate in research as undergraduates. In the summer of 2015, the JMU CoB changed that. The REU program began as an offshoot of the honors program with nine faculty/student pairings, and has now seen more than 100 students participate with more than 55 different faculty members. Students from every major and faculty from every department in the CoB have participated, with some of those pairings lasting two full years. 
Program coordinator and associate professor of economics Andre Neveu finds it a great opportunity for students to further their career options while still in school. "I can think of few better ways to get engaged with what you've been learning. When it comes to graduate school, an MBA or consulting work, students can benefit a lot from the process of doing research." 
An added benefit is the often interdisciplinary pairing of faculty and student, which is at times necessary based on what faculty may need assistance with. According to Neveu, "the collaborative and interdisciplinary work helps the students grow in ways that they aren't going to in their classes." Other times the partners work together to develop an area of study, as in the case of marketing professor Theresa Clarke and finance major Lauren Calderaro. 
Clarke says, "Rather than bringing Lauren into one of my existing research studies, I wanted to help her create her own project from scratch.  While that takes more time and can be more challenging, in the end it is more interesting for the student. It also helps me think of new topics that I wouldn't otherwise consider investigating. We ultimately decided to study similarities and differences between traditional and social media celebrity use of YouTube to market and endorse products. Lauren's role was to collect and analyze data, with an end goal of writing an in-depth case study." 
For Calderaro, the project offered great rewards. "I have learned a tremendous amount about collecting, finding and studying research, as well as conducting a literature review. This has absolutely shaped my experience here at James Madison University because as a member of the Honors College, we learn the importance of experiential learning and applying what you learn in a classroom to real-world experience. I am able to do that through this program." 
While the program helps with advancing faculty scholarship, it also gives students and edge in the job market. After working with Vipul Bhatt on an ongoing world views and economic preferences project, graduating senior accounting major Emily Ringer said, "I know my work as a research assistant impressed every recruiter I spoke with and they all were very intrigued with my experience. The recruiters recognized I had an opportunity to grow that a majority of college students do not receive." While she will be returning to JMU for graduate school in the fall, she landed full-time job offers but chose an internship at big four accounting firm PWC in risk assurance for the summer.