College of Business
Best Business Plans Featured at Annual Jackson-Rainey Event
---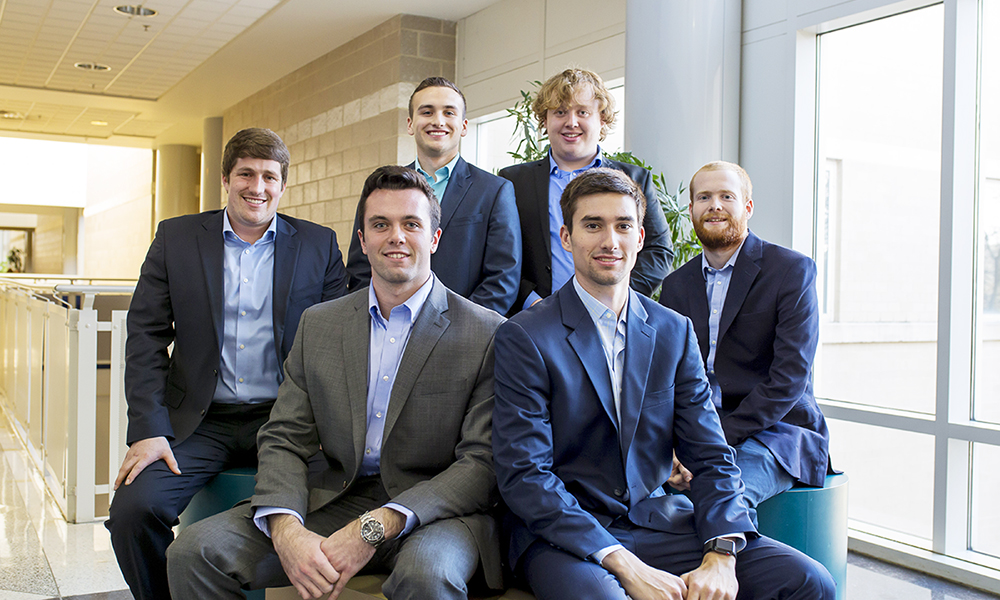 SUMMARY: The March 16 event featured the best business plans to come out of the CoB 300 cohort in the past year. They went through a series of judging rounds before the event, when the final places were determined.
---
The signs of spring are all around us—the blooming of flowers, the chirping of the birds, and of course, budding business ideas being showcased at the annual Jackson-Rainey Business Plan Competition. 
Named for Wayne Jackson ('85) and Don Rainey ('82), the 16th annual event sees their generous endowment of prize contributions fast approaching the one-half million-dollar mark. They are joined in their philanthropy by Katherine Ferguson ('04), who created and has been funding the 'Ferguson Top Female Leader Award' for the past five years. 
In addition to the scholarships in excess of $25,000 that are awarded, the competition gives participants the opportunity to practice their pitching skills at an event similar to a venture capital fair. They gain valuable confidence and benefit from feedback given by experienced business leaders. 
The 2018 competition featured five student teams:
1st place-BarBack Technologies, LLC, which devised a sensor enabled beer tap and an integrated software package that helps bars, breweries, and restaurant owners regulate the amount of beer that comes out of the tap;
2nd place-Anatabod, LLC, which is dedicated to providing superior anatomical models to enhance the learning experience of their customers; 
3rd place-AllSports Care, LLC, an after-school and summer daycare striving to give children from ages five to twelve the opportunity to practice and learn the rules of each sport the organization provides;
4th place-Bubble Car, a manufacturing and retail company that produces and sells waterproof barriers that protect a consumer's vehicle from water damage during floods and natural disasters; and
5th place-SLG (Slide-Lock-Go), LLC, which envisioned a retractable cleat as a fashionable two-in-one shoe that offers convenience and savings on and off the field. 
BarBack Technologies also took the Team Award, and the individual MVPs were: Brett Danielson (BarBack); John Frye (Anatabod); Hunter Markle (BarBack); and Bethany Patton (Anatabod), who also took home the Ferguson Top Female Leader Award. The Accenture Innovation Award for best idea was given to Anatabod. 
CoB 300 faculty selected 26 teams out of the more than 100 presented in class to participate in the competition. The first round of judging and a later round conducted by Mr. Rainey resulted in five teams being selected to participate in the final round of the competition. First round judges included: John 'Jack' Broaddus ('76); Rich Masterson ('82); Jeanne McMillen ('84); Andrew Norton ('95); Mike Ritter ('79); and Rob Shama.  
The distinguished panel of final judges this year included: Don Rainey, Chief Judge and General Partner of Grotech Ventures; April Armstrong, CEO of AHA Insight; Bryan Bostic, Executive Director of Startup Virginia; John Connor, Founder of Ethos Group; Loretta D'Ermes, Operations and Billing Manager at MLS Educational Consultants, Inc.; Katherine Ferguson, Senior Vice President of Business Development at Cooley LLP; Cynthia Russo, Executive Vice President and Chief Financial Officer of Cvent, Inc.; and Russell (Rusty) Shepard, Founder and Chairman of Pursuit Advisory LP.