Professional Development and Engagement
Learning by Doing
---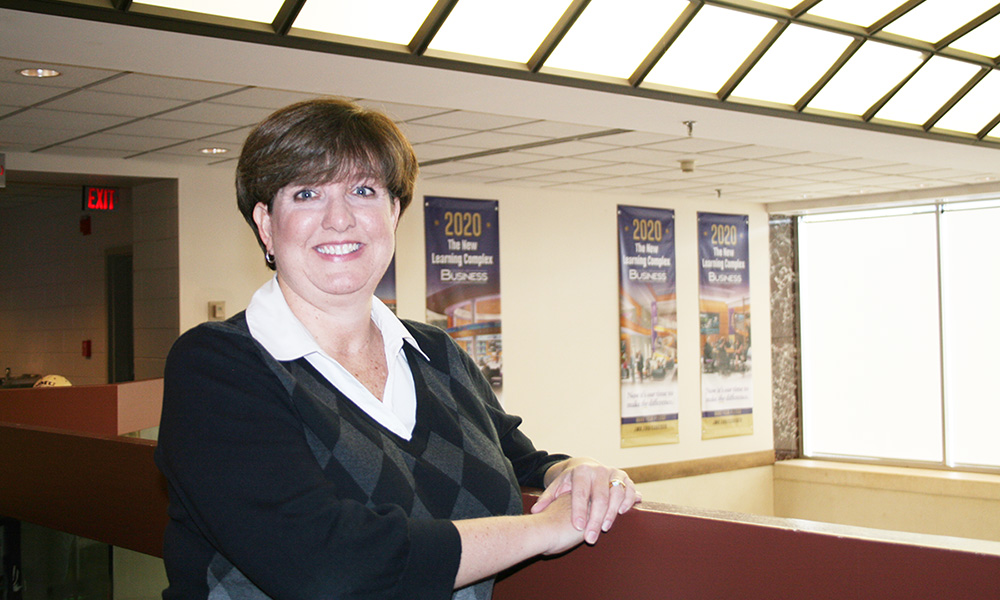 SUMMARY: As director of experiential learning, Samantha "Sam" Collier plans and promotes programs that give students hands-on opportunities to develop their professional skills.
---
Preparing business students for their future careers goes beyond providing strong academic programs. They also must have opportunities throughout their time at JMU to practice concepts they're learning in the classroom, applying theory to real-world business scenarios. 
As director of experiential learning for the College of Business (CoB) , Samantha "Sam" Collier's number one priority is to involve all business students in programs that will help them develop professional skills and give them a competitive edge in the job market.
"The best part of my job is being able to impact students' lives," says Collier, who joined the CoB in 2014 as the first director of the then-newly created Office of Experiential Learning. "I am delighted when I see a student taking advantage of the opportunities through our office to find an internship or job, or connect with a JMU alum. It's personally satisfying for me to help a student find success in moving toward their career."
Experiential learning is a process designed to complement and enhance the CoB academic experience by involving students in practical experiences outside the traditional academic setting. Collier coordinates learning tours, for example, which take students to places such as Washington, D.C., New York City, Richmond, Va., and San Francisco where they meet with senior-level executives at leading companies and network with JMU alumni living in the area. This fall, she collaborated with the Department of Management to offer the CoB's inaugural Sophomore Connection, a professional development program for students enrolled in the course, COB202: Interpersonal Skills. More than 500 sophomores participated in the day-long workshop in which students worked with CoB alumni and faculty to practice skills such as making introductions, building a professional resume, effective networking, impression management and professional portfolio development.
"One of our biggest initiatives is to develop programs that impact all students in the College of Business--not just a few who seek out these opportunities on their own," says Collier, who previously was director of external affairs for the Rutgers University School of Business in Camden, New Jersey.  "Not every student comes to college understanding the value of getting involved in professional development activities outside the classroom. It's our job to help them get involved in the CoB and on campus so that they can develop their leadership and  professional skills. We want students to be career ready by the time they graduate."
Engaging alumni in student programming has been key to many of the successes of the CoB's experiential learning programs, Collier says.
"Our alumni are able to help students understand what it takes to be successful in business careers," Collier says. "That's so important because alumni advice often can be instrumental to the success of a student's ability to find their career path. The professional advice that alumni offer students is invaluable."
To learn more about how you can get involved as an alumni volunteer contact Samantha Collier at colliesb@jmu.edu.