News
Sales Students Shine at NCSC Competition
---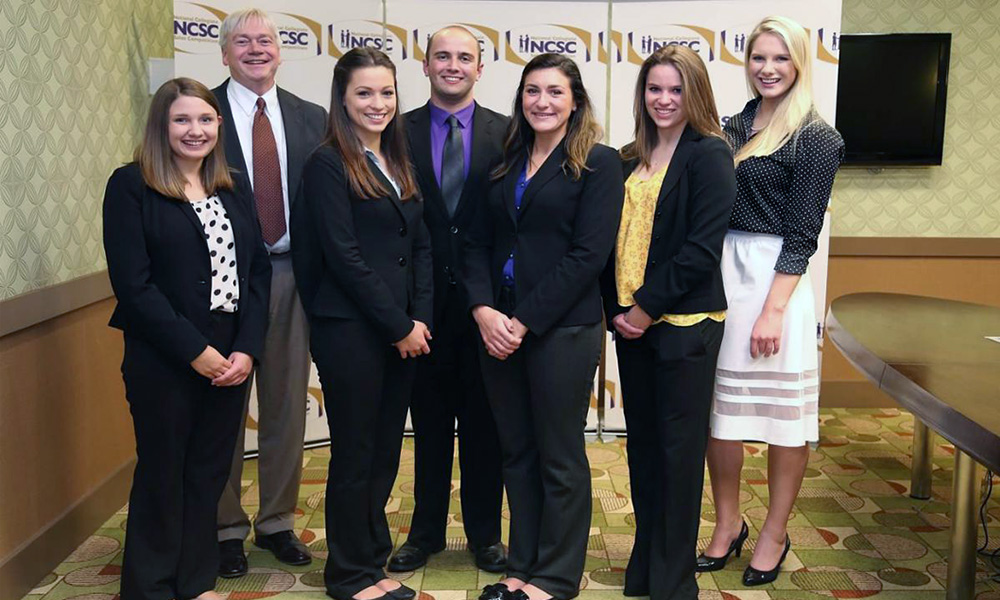 Kaitlyn Blair earned a spot in the semi-finals, while Joseph Straub made it to the first round and the wildcard round in the recent National Collegiate Sales Competition. Held in Kennesaw, Ga., April 7 to 10, the competition attracted 134 competitors representing 67 schools. JMU came in 17th and Kaitlyn tied for 11th overall.
This was the second year that the CoB sent a team to the NCSC. Last year, the JMU team tied for 30th.
In addition to the competition, the event included a career fair, which was attended by students Kaitlin Sinisi, Sarah Lamb, Sarah Van Leeuwen, and Shelby Waltrip.
Pictured at left is the student team, along with Advisor Dr. Joe Derby: Lamb, Derby, Waltrip, Straub, Sinisi, Van Leeuwen, and Blair.
Lamb says, "The NCSC trip impacted my life tremendously! I went down there as an alternate and it gave me time to go through the career fair and meet a lot of new employers I wouldn't have had access to otherwise. I walked away from the four day event with 2 job offers at amazing companies. It set me up to work for an awesome company that was way better than any of the offers I already had received. It changed my career path and I'm so glad I went!"
Sinisi echoed her sentiments, "Attending the 2015 National Collegiate Sales Competition was one of the most rewarding experiences of my academic career at JMU. The event opened the door to career opportunities that, previous to the competition, felt out of reach. The career fair was incredible. You gain exposure to very impressive companies and have the chance to network in a competitive environment. Based on my experience, my recommendation to future students is to hold off on accepting an offer until after you attend NCSC. I thought that I knew where I wanted to work and what I wanted to do, but after attending NCSC, my perspective changed. The sales competition allowed me to make the best decision possible, and I am extremely thankful that I have had the opportunity to do so."
The competition included role playing, with the students acting as sellers and the sponsoring company representatives acting as buyers. After several rounds, the top four students went on to the finals. Judges included professors and businesspeople representing the sponsoring organizations.
Faculty team leader and Marketing Assistant Professor Dr. Joe Derby says, "Beyond the competition, attending the career fair allowed our students direct access to a variety of company managers recruiting top sales talent – they  know that students attending NCSC are not only very talented but also very serious about careers in sales." He adds, "The week was definitely a life altering event for our students and a major step forward in their career transition."
Derby added that many companies are interested in sponsoring the JMU Center for Professional Sales. By partnering with the Center, businesses have the opportunity to interact with students, see them in action, and talk to them.
February Internal Sales Competition
Blair and Straub were selected to represent the CoB through an internal sales competition in February, which was sponsored by the Center for Professional Sales. This competition included an introduction sales call and a product presentation on a payroll system developed by ADP.
Marketing Department Head Dr. Andy Wood says, "This is the piece that you can't ever get in the classroom. It's hard for me to articulate how much better they'll be in their interview and later in their career, just having gone through one of these competitions."
In addition to participating in sales competitions, Straub and Ashley Yelverton recently attended an annual sales meeting for K2M, which was quite educational and valuable for them.
Published: Wednesday, April 22, 2015
Last Updated: Friday, August 5, 2016