News
Management Students Get a Glimpse into the Consulting Industry
---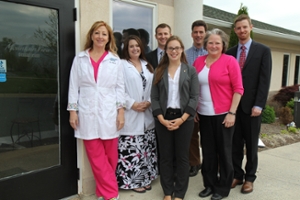 Students from Dr. Marshall Pattie's Management Consulting course (MGT 467) ended the semester by presenting their consulting projects to their local clients.
As an opportunity for experiential learning, this course provides students with hands-on consulting experience by asking students to conduct an analysis of current business practices and suggest areas of possible improvement for real-world companies in the local area. Students must then present their findings to their clients during the final weeks of the semester. The purpose of the course is not only to provide students with applied consulting experience, but also to teach students how to effectively establish and maintain strong relationships with real clients.
Projects covered a variety of topics and were conducted for a wide range of companies.
The Mountain View Dental Team: (pictured) Review and update employee manual, determine a more cohesive approach to human resources management, develop a supply reorder system.
The team presented its findings to Mountain View on May 7.  As part of its research, team members interviewed 9 employees to learn about their job functions, their performance evaluation schedules, and their general satisfaction with their work environment. During the presentation, the team suggested that management set up a specified schedule for performance evaluations. They also suggested that the general policy manual be updated.
Tara Seay, practice manager and RN, says, "The team's investigative skills were good. The presentation was right on point. They met all the objectives, and shared the top priorities with us."
Team member Jonathan Holloway says, "It was a super valuable experience. I gained a lot of real world experience that will be applicable in the future."
American Woodwork Corporation: Determine ways of increasing training effectiveness. Develop various types of "games" that reinforce training in order to increase involvement and engagement in training activities.
Second Home: Establish a more intentional, singular identity and develop organizational relationships between Second Home and the Muhlenberg Lutheran Church that will allow for consistency, oversight, and a sustainable, efficient staffing structure that is able to maintain the vision of the program, accountability, and communication.
Second Home wanted the group to conduct interviews, examine structures of other local programs, research how other faith-based non-profits are structured/run, and offer some recommendations for improvement.
nTelos Wireless:  Survey customers of ntelos as well as customers of other carriers to compare satisfaction. Create a report that highlights similarities and differences.
Shenandoah Valley Regional Airport: Determine how to best reach the faculty and staff of JMU to create general awareness of our services and increase utilization of the airport by this population. Develop a JMU familiarization event from brainstorming to final execution. Provide additional ideas for ways to continue fostering a relationship with JMU faculty and staff even after the familiarization event.
Harrisonburg City Schools: Consider salary comparisons for support staff and consider options for the school district.
The Greater Augusta Regional Chamber of Commerce:
Develop a marketing plan for the Chamber's social media accounts—increase followers on our page, determine what types of information the members would like to see posted to social media accounts, provide recommendations on how to better manage our social media accounts in order to effectively deliver a consistent m
Published: Thursday, May 8, 2014
Last Updated: Wednesday, June 8, 2016