News
Judges from Deloitte Name Winners of 8th Semi-Annual Innovation Case Competition
---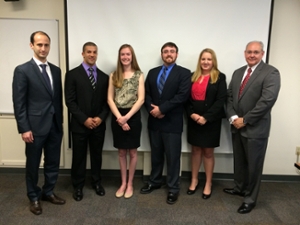 On April 11, 2014, two representatives from Deloitte Consulting LLP volunteered their time and expertise to judge the 8th Semi-Annual Innovation Case Competition for Dr. Fariss Mousa's Management of Technology and Innovation Course (MGT 420). 
For the past eight semesters, representatives from Deloitte have been committed to providing JMU with guidance and support both inside and outside of the classroom.
This year, the judges from Deloitte included National Managing Director of Strategic Client Ventures Mr. Schaffer Hilton and Senior Manager Mr. Ussama Baggili. 
Hilton arrived at JMU the day before the competition to meet one-on-one with student groups to offer feedback and help them enhance their presentations, simulating the way he advises his own consulting teams at Deloitte in preparing their pitches for real clients. 
In addition, Hilton also presented on the global impact of innovation in Dr. Mousa's Management of Technology and Innovation course (MGT 420) and his Strategic Management course (MGT 487). During his presentation, Hilton explained to students the ways in which innovation is impacting businesses worldwide and encouraged students to pursue innovative ideas and solutions both while in college and after graduation.
Friday morning, Baggili joined Hilton and Mousa to judge the five competing groups. Having not previously seen the presentations, Baggili was able to offer feedback on each of the group's case solutions from a fresh perspective. Hilton, having seen the initial presentations, was able to comment on the students' improvements from the previous day. After naming a winner, the Deloitte judges then answered any specific questions the students had. Both Baggili and Hilton offered feedback that benefited the students not just in their competition presentations, but also in understanding the dynamics of the consulting industry and the decisions that impact future career paths. 
In offering their guidance and talents to judge these competitions, representatives from Deloitte continue to help prepare students for life after college. The College of Business is grateful to Hilton and Baggili for their continued efforts to share their knowledge and experience with students. 
Pictured left is Mr. Ussama Baggili with winning team members Matt Sydnor, Kelly Hartnett, Michael Buckley, and Taylor Deputy, next to Mr. Shaffer Hilton.
The CoB thanks the Deloitte judges for their continued support, and congratulates this year's winners of the 8th Semi-Annual Innovation Case Competition. 
To view pictures from this event, click here. 
Published: Wednesday, April 23, 2014
Last Updated: Wednesday, June 8, 2016