College of Arts and Letters
Interpreting the past
JMU launched Patrick Spero ('00) into a career as a historian
---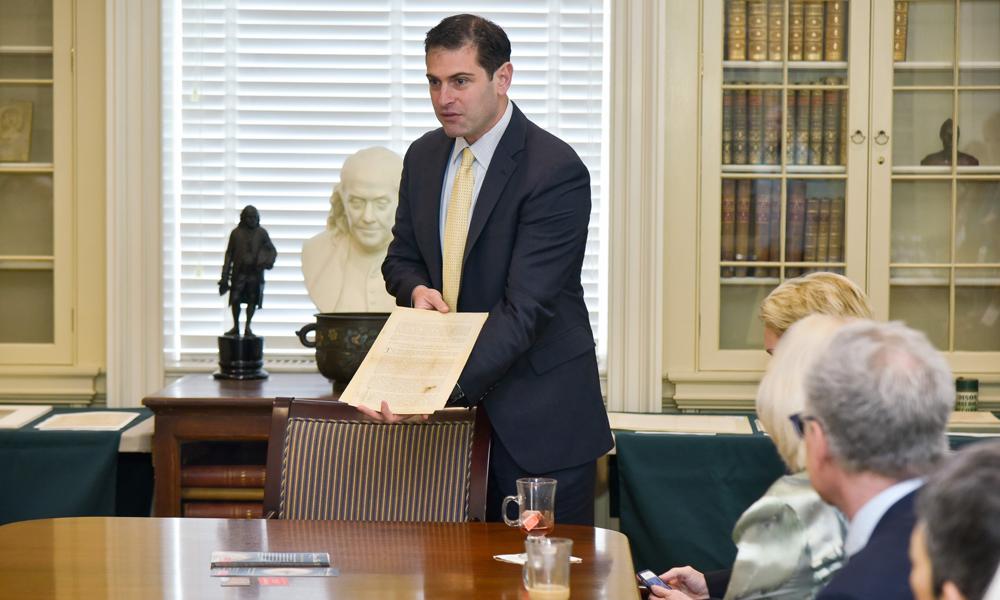 SUMMARY: Studying history at JMU lead Patrick Spero, librarian and director of the American Philosophical Society Library to discover the true work of historians. This week, he was inducted as a new Member of the APS, joining top scholars from across the globe.
---
The first time Patrick Spero ('00) learned about the Paxton Boys rebellion, he was reading through Benjamin Franklin's autobiography in a JMU history course. The Paxton Boys rebellion was "perhaps the largest colonial protest movement to date in all the colonies, certainly in Pennsylvania," said Spero. "[And] I'd never heard of [it] before."
Growing up outside of Boston, Spero had come to learn a certain story of the revolution before coming to JMU. "The Stamp Act, the Boston Tea Party, the Boston Massacre, the Sons of Liberty... that was my American Revolution." Fascinated by the little-known episode in history, he chose the rebellion as the subject for the final paper in his American Revolution course. 
"Historians aren't just remembering dates and people and facts, but they are actually doing original research, trying to make new discoveries and interpreting the past in new ways."
Patrick Spero ('00)
Spero became so absorbed in his research that he requested an extension from professor Chris Arndt, who allowed him an additional eight hours if he delivered the final to Arndt's home by 5 pm. Spero stood at Arndt's door that evening, unaware he had just completed the groundwork research that would inspire his thesis, dissertation and two books on the American Revolution. 
The Work of a Historian
"The [paper] really opened my eyes to the work that historians do," said Spero, now a scholar of early American history with specialization in the era of the American Revolution. "Historians aren't just remembering dates and people and facts, but they are actually doing original research, trying to make new discoveries and interpreting the past in new ways."
It was Arndt that recognized the journal article quality of Spero's paper and suggested he develop it into an honors thesis. For a year, Arndt and Spero met weekly to discuss Spero's research and make draft edits. "[Throughout the thesis process] the idea that this was something I could do as a profession or as a career was just transformative." Spero's ability to analyze and synthesize information seemed nearly effortless to Arndt, who encouraged him to consider graduate school.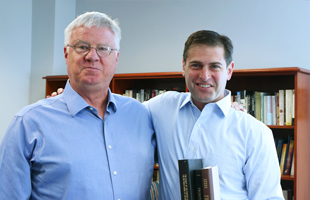 "When I arrived at JMU, graduate school wasn't even an idea," Spero said. "But Chris talked to me about what it was like, encouraged me, but also gave me all the warnings one needs to hear about careers and prospects afterward."
After two years in the working world, Spero followed Arndt's advice and began graduate school at the University of Pennsylvania, where he earned his Ph.D. "I really felt like the thesis experience at JMU was a lot like writing a dissertation [at UPenn] in terms of the interaction with an advisor who is deeply committed to you, your project, your future–whatever that may be."
Because of Spero's liberal arts experience in JMU's history department–small class sizes and a lot of contact with professors–Spero decided he wanted to teach at a small liberal arts college. "The experience I had with Chris, I wanted to have with students." 
 A New Passion
After four years at Williams College, Spero realized there might be something even more interesting to him than teaching: libraries, specifically the digitization of libraries. "Libraries really captured my imagination. These new technologies allow us to ask new questions about our old material." Today, Spero serves as the librarian of the oldest learning society in the country, the American Philosophical Society in Philadelphia, Pennsylvania.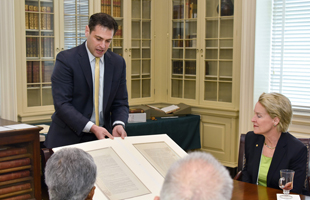 Founded in 1743, Benjamin Franklin created the APS to ensure the colonies had a network of intellectual correspondence. The library and museum, overseen by Spero, contains an astounding 13 million pages of manuscripts, takes up over two and half miles of shelf space and is cared for by a team of 30. Earlier this week, Spero also joined the likes of author Joyce Carol Oates, chemist Stephen Lippard and Justice of the U.S. Supreme Court Elena Kagan when he was inducted as a new Member of the APS.
"We have the journals of Lewis and Clark and one of the largest collections of Native American material in the country, especially endangered languages." And with a special nod to its founder and the impetus for Spero's career as a historian, the library museum contains 70% of Benjamin Frankin's papers. 
"You can never expect your career to be a linear path."
Patrick Spero ('00)
 "The thesis that I began under Chris turned into my dissertation, which turned into my first book, and which in this weird way, evolved into my second book," said Spero. In the same way, Spero's career has evolved from curiosity to curiosity.
"You can never expect your career to be a linear path," said Spero. "Every time I think I know what I want, I realize, well, there might be something else that's even more interesting."