CVPA Spotlight Series: Matthew Brooks and Nicoletta Moss
College of Visual and Performing Arts Stories
---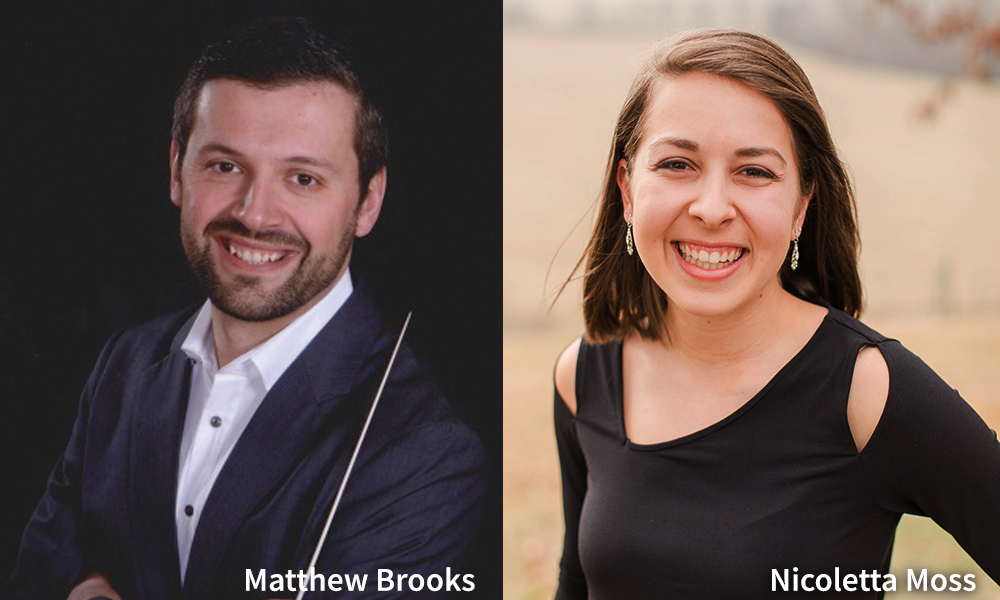 SUMMARY: JMU alumni Matthew Brooks ('15) and Nicoletta Moss ('18) met at JMU. Brooks conducted works for the JMU Symphony and Chamber Orchestras; Moss was a member of both orchestras. The two reconnected in 2020 to found NAMO, the National Association of Medical Orchestras.
---
By Jen Kulju ('04M)
Matthew Brooks grew up in Massachusetts about an hour from Boston, where his parents took him and his two older sisters to Boston Pops holiday spectacular concerts. Brooks says the "early exposure made a great impact," and all three siblings participated in music. Brooks started playing the piano like his older sister—and then also began taking lessons on the French horn, which became his primary instrument in college.
Brooks earned a Bachelor of Music degree in music education from the University of Hartford in Connecticut in 2003 and then went straight to graduate school at the University of Nevada, Las Vegas (UNLV), where he obtained a Master of Music degree in orchestral conducting in 2005. "I had always aspired to be an orchestra conductor and to get my doctorate," shares Brooks. Seven years after graduating from UNLV, Brooks enrolled in JMU's D.M.A. in conducting, pedagogy and literature program "to fill in musical gaps, develop as an academic conductor, and teach." In 2014, Brooks conducted works for the JMU Symphony Orchestra and JMU Chamber Orchestra; he met Nicoletta Moss, who was a member of both orchestras.
Nicoletta Moss started playing the violin and piano at age eight growing up in Westchester County, New York, 15 minutes from "The Big Apple." While in middle school, Moss' family moved to Richmond, Virginia, where Moss continued her musical pursuits. She developed an interest in the viola and "became more serious about it" in high school. "I realized I loved the deeper sound and role it plays in chamber and orchestra ensembles," says Moss, who also continued to hone her skills on the violin through private lessons. In addition to taking lessons and performing in regional and youth orchestras, Moss taught "private lessons, various group glasses, and after-school programs."
When it came time to pick a college, Moss chose JMU for its reputable music education program, strong performing orchestra opportunities under the baton of Dr. Robert McCashin, and meaningful community-oriented practicum experiences. Through her music and human services minor at JMU, Moss became passionate about working with musicians outside of the K-12 setting—in retirement homes, hospitals, and preschools, to name a few. Moss served as music director of the JMU Club Orchestra (see picture below) for three years, where she played the double bass and "fell into" conducting. That experience led her to pursue her Master of Music degree in conducting and music education from the University of North Carolina at Greensboro following her graduation from JMU in 2018.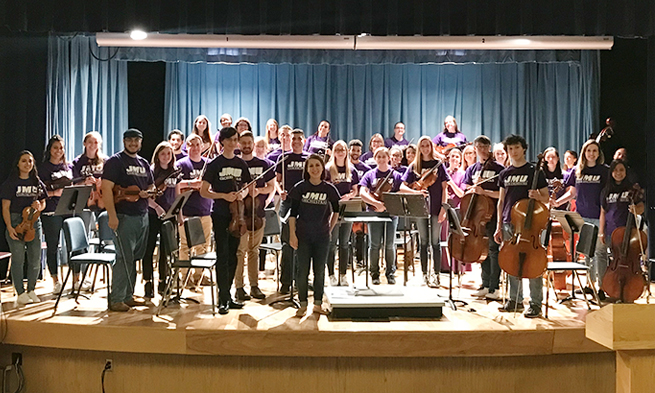 Moss became interested in medical orchestras while in graduate school. In March 2020, she teamed up with one her professors to guide her through a research study on the topic. Moss put together a list of the medical orchestras she could find in the United States and sent surveys to them. Out of 24 groups, Moss heard back from 12. Through the results, she learned about their structures, budgets, and number of people involved. She also noticed that most groups had been developed in the past five years, and desired to deepen her knowledge through conversations with leaders of the orchestras. One of the orchestras she heard back from was the Nebraska Medical Orchestra, under the direction of Brooks.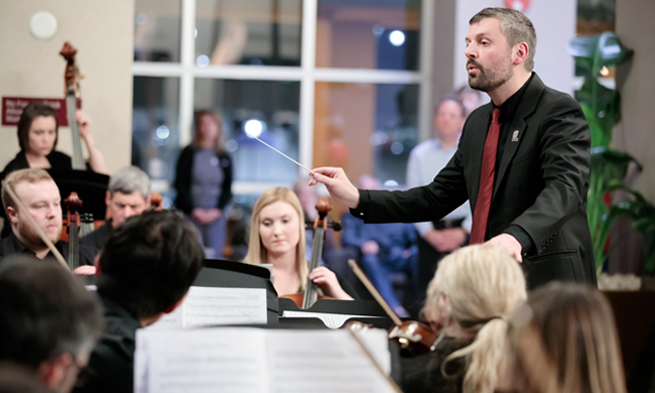 Moss reached out for an interview with Brooks, whom she had remained Facebook friends with since their time together at JMU. Assistant professor and director of orchestral activities in music & medicine at University of Nebraska at Omaha (UNO), Brooks shared with Moss his experience as a creator and founding music director and conductor of the Nebraska Medical Orchestra, a collaboration between the University of Nebraska Medical Center (UNMC) and the UNO School of Music. After an initial interest of over 120 medical professionals from UNMC in 2018, the volunteer orchestra expanded to include healthcare-related musicians from the greater community. "We wanted to create a musical outlet for medical providers, healthcare participants, and students in healthcare to reduce stress and burnout," says Brooks.
A few months later, Brooks contacted Moss to see if she would be interested in forming a group with him and two other musicians in the Nebraska Medical Orchestra that would reach members of the medical orchestras nationally. Moss had moved into a full-time position as enrollment manager at Levine Music, a community music school in the D.C. area, after graduating from UNC Greensboro in May 2020—but seized the opportunity to join the team. The National Association of Medical Orchestras (NAMO) was born. Meanwhile, Moss took the information from her interview with Brooks and included it in a poster presentation she gave at the 2021 Virtual American String Teachers Association (ASTA) National Conference.
Today, NAMO is a free membership-based organization that has amassed members from 24 medical orchestras across the country. NAMO seeks to build the community of medical orchestras and to be a resource for these orchestras. Building the community requires "finding all of the hidden musicians that exist in the medical world" as well as reaching healthcare professionals who play in community orchestras. According to Brooks, medical orchestras have unique needs and affiliations, making resources helpful for conductors or future organizers as well as musicians. Healthcare professionals who move from one institution to another can use NAMO to search for medical orchestras in their new location. While indoor performances for medical orchestras have been curtailed by COVID, some medical orchestras have performed outdoors. NAMO is working closely with organizers and members of the National Virtual Medical Orchestra to further strengthen the medical orchestra community.
Brooks and Moss are committed to advocating and supporting medical orchestras nationwide in order to "benefit healthcare for all of us." NAMO is holding a virtual conference from May 15-29, 2021. The conference features speakers from various medical orchestras and is free for members. To learn more and register, visit www.thenamo.org.
Photos courtesy of Matthew Brooks and Nicoletta Moss