Honoring Dr. Earlynn J. Miller
College of Visual and Performing Arts Stories
---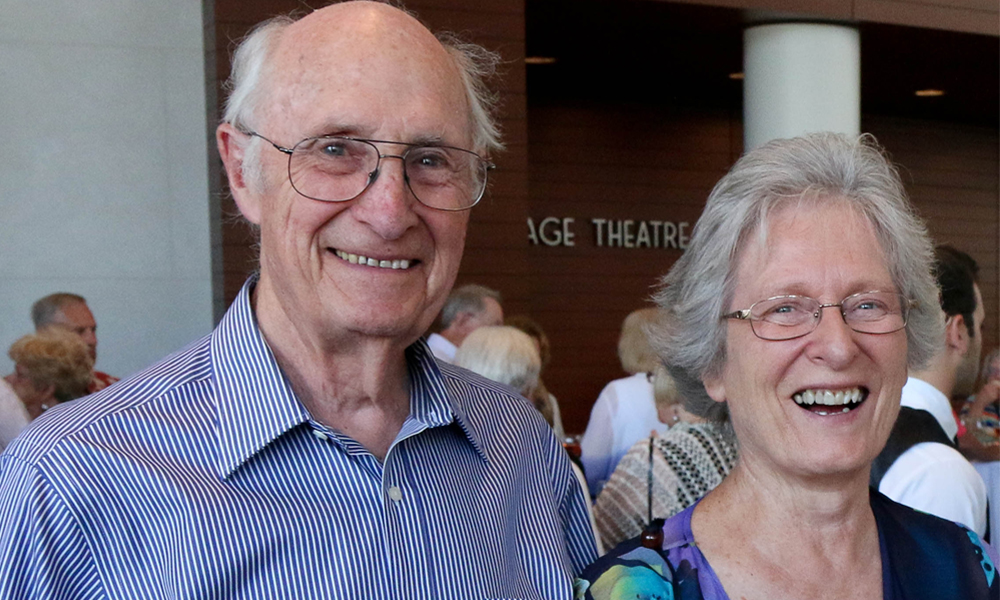 SUMMARY: Dr. Earlynn J. Miller established the Dance Program in her 30-year career as a dance faculty member at JMU. In her retirement, she attended countless arts events, performances, and exhibitions with partner Don Albright.
---
We in the College of Visual and Performing Arts are saddened by the passing of Dr. Earlynn J. Miller on Monday, April 19, 2021. Dr. Miller was an avid supporter of the arts at JMU and could often be seen attending Forbes Center performances and gallery exhibitions with her longtime companion Don Albright.
Dr. Miller grew up in Peoria, Illinois, where she took classes in the arts. She developed a special interest in dance and earned a B.S. in physical education & dance from Illinois State University in 1962. She furthered her education in the arts at the University of North Carolina at Greensboro, where she obtained an M.F.A. in dance & art in 1963 and an Ed.D. in dance, art & research in 1969.
Dr. Miller began a 30-year career as a full-time dance faculty member at JMU in 1969. Her hiring inspired a dance program with a minor and major and a department of full-time faculty. Dr. Miller retired with a faculty emerita status in 1999.
In retirement, Dr. Miller gave generously of her time and finances to the arts at JMU. Her named gift, the Earlynn J. Miller Dance Theatre in the Forbes Center, allows dance students the opportunity to attend class and perform in a state-of-the-art space. Her establishment of the Dr. Earlynn J. Miller Scholarship for Dance supports students in their pursuit of a dance degree. She got to know the students she supported on a personal level through scholarship luncheons and by attending their performances.
Dr. Miller said the arts are what she loved the most and wanted to share with people. We thank Dr. Earlynn J. Miller for giving her heart to the arts at JMU and honor her commitment to enriching the lives of others through her steadfast service and ardent advocacy for all of the arts.
Photo by Bob Adamek of Earlynn J. Miller and Don Albright attending the 2015 Forbes Center Season Announcement Event.