JMU Headlines
Shoptalk with JMU faculty about upcoming NY Auto Show
---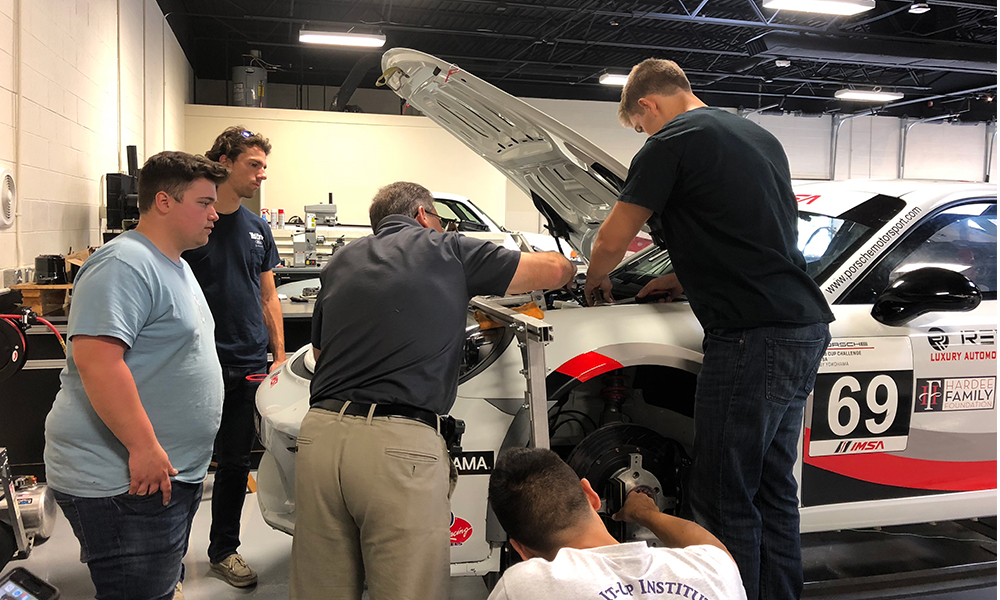 SUMMARY: Cole Scrogham works with students on a car through the Madison Automotive Apprentices (MAAP).
---
While car enthusiasts are anxious to see the latest shiny model of their favorite car, James Madison University's very own car expert provides insight into the upcoming trends that will come from the New York International Auto Show.
Cole Scrogham, executive director of Madison Automotive Apprentices has experienced many car shows and watched the automotive trends throughout the years.
"It is an exciting time in the automotive industry," explained Scrogham. "The American love affair with their cars, often as a personal extension of an individual's own brand, shows no sign of abating."
Large auto shows, like the New York Auto Show, are proof that automotive brand loyalty is alive and well in America. Despite the fact that the British staple, the Mini, is now operated by BMW, Lamborghini is owned by the VW Group and Chrysler is owned by the Italian consortium through Fiat, consumers still flock to see their favorites. 
Approximately 1,000 individual car models will be seen over several days by estimates of close to 1 million viewers. The New York Auto Show is scheduled earlier in the year, April 19-28, but always seems to be a catch-all for the industry that focuses on events like Detroit, Los Angeles and Geneva, which are timed alongside new model introductions in the late summer and fall.
Consumers are still wondering and Scrogham is discussing in the shop, when GM will finally show the new mid-engine Corvette and if Tesla is going to be able to withstand new electric mobility competition when the VW Group is investing 60 billion in new technology. Will trade issues spill over into this industry from punitive tariffs and a rise in knock-off brands?
Scrogham shares his knowledge and experience in the automotive industry in a specialized educational space, where hands get dirty and relationships are formed in the field through Madison Automotive Apprentices. This program is a nonprofit affiliated with JMU's College of Integrated Science and Engineering, but open to highly motivated JMU students from any academic major. It exists to provide educational and networking opportunities for students interested in automotive-related careers.
Scrogham's personal brand has always fallen with a Porsche. His hands-on experience and knowledge in Porsche racing and restoration also led his writing two technical publications.
Media contact: Mary-Hope Vass, vassmg@jmu.edu, or 540-568-7487.
###