News
Spring Career Fair
---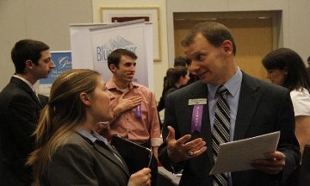 It's that time of the year again when James Madison University students start to think about applying for jobs and internships.  Inevitable questions such as, "How should I format my resume?" "Where do I begin to look for a job?"  "How do I know what internship is right for me?" and more all run through students' minds during this process.  Luckily, Career and Academic Planning is here to help.  CAP is hosting its annual Spring Career, Internship and Service Fair on Feb. 19 from noon­­ to 4 p.m. and Feb. 20 from 11 a.m. to 3p.m. in the Festival Conference and Student Center ballroom.  Due to the high number of organizations that want to attend JMU's career fair, a second day has been added this spring to allow even more opportunities for students to make connections.
Highlights of the Fair
Students of all academic levels are encouraged to attend the career fair and meet prospective employers and learn about internship and full-time opportunities.  Handing out your resume in person, networking, and meeting potential employers face-to-face are all great advantages of attending the career fair.  Another great advantage is the LinkedIn photo booth that CAP will be providing.  This photo booth will allow students already dressed in their professional clothing to take an appropriate and professional headshot picture to use on their LinkedIn profile.   Each day the fair will host approximately 80 different organizations ranging from a wide variety of industries and geographic locations.   
Three $1,000 scholarships will be awarded to students who attend the fair.  CAP uses the money from the registration fee each organization pays to participate in the fair to fund the scholarships.  All students who attend the fair have a chance of winning a scholarship.  Once a student signs in at the fair, and responds to a survey following the event, their name is automatically entered into the drawing.  One of last year's recipients, Rachel Griffin, a senior from Arlington, Va., said, "Winning this scholarship shows me just how much JMU cares about its students and wants them to succeed.  It's so great to have a program like this."
For the Spring Career, Internship and Service Fair, CAP is partnering with Community Service Learning to bring service and nonprofit organizations to campus.  Organizations such as City Year, AmeriCorps, and Teach for America will be attending the fair to look for JMU graduates to aid their worthy cause.  Career & Academic Planning advisor De'Shay Turner says, "We know that a lot of students here at JMU enjoy and take advantage of these service opportunities.  Those opportunities also have the potential of helping them figure out what career they want to go into, so we try to target that with the spring fair." 
Career Fair by the Numbers
According to CAP's 2012 follow-up survey, 54 students received jobs from attending the Fall Career and Internship Fair and the actual number is presumed to be even higher.  Senior marketing major Meredith Riddell received a job offer with TEKSystems after meeting with them at the fair.  "I definitely think meeting in person helps to put a face to the resume," says Riddell.  "The career fair helped me to get the interaction needed rather than just applying online with hundreds of other applicants."  Riddell's story is just one of the many success stories from career fairs JMU hosts throughout the year.  Turner says, "The high success rate of students being hired from the various career fairs is because organizations love to hire JMU students.  Employers come back each year to the career fairs because they admire the ambition and eagerness of JMU students and they want them to join their team."
Turner's advice to students attending the career fair is to definitely plan in advance.  He says, "Figure out who you would like to speak with so you are not overwhelmed when you arrive at the fair.  Research the organizations ahead of time so that you make valuable use of your time in front of that employer." 
CAP is sponsoring information tables the week before the fair, Feb. 14 in the Festival upper level hallway from 11 a.m. to 2 p.m. and Feb. 15 in the East Campus Dining Hall lobby from 11 a.m. to 2 p.m. Students can also tweet any questions they may have about the spring fair to @jmucap leading up to the event and while the fair is occurring.
For more in depth assistance, students can always make individual appointments with a CAP advisor concerning career options, job and internship searches or the graduate school application process.. 
For a complete list of companies attending the fair, to schedule an appointment with CAP and for more tips and advice be sure to check out the CAP website at www.jmu.edu/cap. 
By Lauren Vacca ('13), Public Affairs Intern
###
February 12, 2013