New York Director, JMU Students Present 'Blood Wedding'
---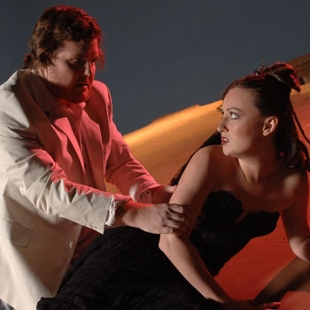 HARRISONBURG - James Madison University's School of Theatre and Dance presents "Blood Wedding," a fiery fusion of danger, vengeance and passion, directed by guest artist Victor Maog. 

DATES: Tuesday-Saturday, April 28-May 2, 2009 
TIME: 8 p.m. 
LOCATION: Latimer-Shaeffer Theatre, Duke Hall, JMU 

"Blood Wedding," written by one of Spain's greatest poets and dramatists Federico García Lorca is a Spanish tragedy and one of García Lorca's best-known plays. First performed in 1933, the play tells the story in which a bride runs away with a former lover and a pained husband's heart turns dark. 

The JMU production is a 1996 translation by English Poet Laureate, the late Ted Hughes. 

Maog, a cutting-edge stage director and educator from New York City, is in residence at the School of Theatre and Dance and is the director of theater and music theater for the Perry-Mansfield Performing Arts School & Camp in Steamboat Springs, Colo. 

At age 20, Maog became the youngest artistic director of the Theatre Arts Project of San Joaquin County in Stockton, Calif. He earned a B.A. with a concentration in global leadership and performance studies from New York University's Gallatin School and is in residence at the Tisch School of the Art's Goldberg Department of Dramatic Writing. Maog has been an evaluator for the Rockefeller and Princess Grace Foundations and represented the United States at the 31st International Theatre Institute/UNESCO World Congress. 

"Blood Wedding" features Trevor Wilhelms (Bridegroom), Shannon O'Riordan (Bride), Lash Dooley (Leonardo), Sarah Miles (Mother-in-Law), Zack Moody (Father), Lauren Ramsey (Wife and Moon), Blair Bowers (Neighbor and Servant), Christie Steele (Mother and Beggar Woman) and Maria Slye (Little Girl and Dancer). 

Rob Anderson, Andrew Darnell and Dylan Morris play Youth and Woodcutters; Kaitlyn Benetz, Sarah Gawron and Brittanny Krause play Girls and Dancers. Corey Hummerston completes the cast as a Dancer. 

Tickets are $10 general admission and $8 for children under 12, senior citizens and JACard holders. For tickets and information, call the JMU Masterpiece Season box office at (540) 568-7000 or (877) 201-7543 (toll free). The box office is in Harrison Hall, Room 1107, and is open from noon to 4 p.m. Monday through Friday.