JMU Actors Stage Shakespearean Comedy April 22-26
---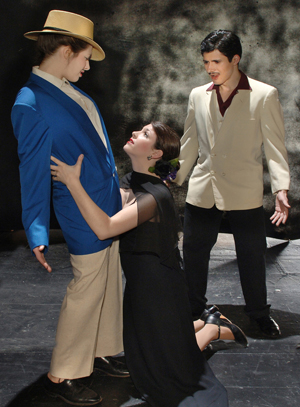 HARRISONBURG - James Madison University's School of Theatre will present "Twelfth Night" by William Shakespeare, adapted by Wolf J. Sherrill, as the final main stage production of the 2007-08 academic year. 

DATES: Tuesday-Saturday, April 22-26, 2008 
TIME: 8 p.m. 
LOCATION: Latimer-Shaeffer Theatre, Duke Hall, JMU 

Sherrill, assistant professor of theater, directs the romantic Elizabethan comedy where assumed and mistaken identities, gender-crossing disguises, all manner of obstacles and roguish behavior stir the emotions, the madness and the desire involved in the search for "true" love. 

Cast members are Andrew Darnell (Antonio), Jackson Thompson (Sebastian), Blair Bowers (Viola/Cesario), Jamie Loving (Feste), David Blore (Duke Orsino), Stefan Gural (Sir Toby Belch), Natasha Solomon (Maria), John Kirk (Sir Andrew), Ali Hoxie (Olivia), Rob Anderson (Malvolio) and Lash Dooley (Fabian). Additional cast members include Nathan Taylor, Justin Mather, Noel Edwards, Hayley Johnson and Kevin Collins. 

Tickets are $10 general admission and $8 for children under 12, senior citizens and JACard holders. For tickets and information, call the JMU Masterpiece Season box office at 540-568-7000 or 877-201-7543 (toll free). 

The box office, located in Room 1107, Harrison Hall, is open from noon to 4 p.m. Monday through Friday. 

JMU Public Affairs contact: Janet Smith, 540-568-8008 or smithjl@jmu.edu.