You are in the main content
Camp UREC Heroes Week Wrap-Up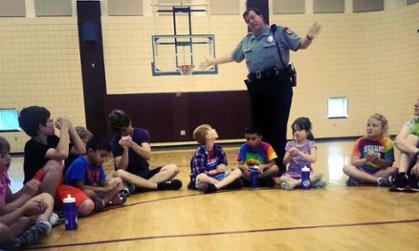 By Keala Mason
What is your definition of a hero? What kind of qualities do you look for in a hero? If you had a superhero power, what would yours be?
Heroes come in all different shapes and sizes. A hero can have the superhuman strength of Superman or the ingenuity of Indiana Jones. A heroine could have the humanitarianism of Helen Keller or the brazen of Batgirl. Heroes can be found almost anywhere: in literature, in film, or even local heroes in local neighborhoods.
June 17-21 was Camp UREC Heroes week! Campers were exposed to various activities, games, and events that were related to the theme of the Hero. Campers took part in an activity where they got to illustrate their heroes and share those with the group. Answers varied, from campers parents to friends, or even action-film characters. Campers were quizzed in Superhero Trivia, crafted their own Superhero capes (made from pillowcases), and identified local heroes with the Summer Safety program done by the local Harrisonburg Fire Department. UREC campers ventured to the JMU Planetarium, participated in gymnastics, climbed the rock wall and swam as well. Our Field Trip Friday expedition was to the New Market Battlefield where campers learned about Civil War heroes local to the Valley.
Seth Fernandez, age 10, remarks that his hero is "Messi, the Barcelona soccer player who is the best player in the world." Seth admires Messi because Seth "likes soccer a lot and [Messi] inspires [him] to play soccer better." Seth also thinks a hero possesses qualities such as: trustworthiness, reliability and heroism. When asked "which superpower would you want?" Seth said that he would want to "turn invisible to be able to sneak up on enemies."
See all photos from Heroes Week!