University Recreation
UREC Student Employees Win National Award
---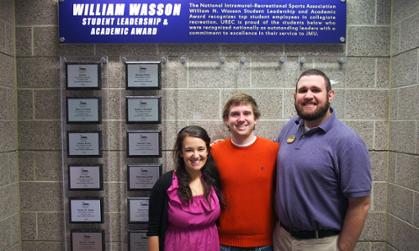 Megan Flosdorf, Brad Burgess, and Jason Darby,
in the location where their plaques will be displayed.
Named after NIRSA's (Leaders in Collegiate Recreation) founder the William N. Wasson Student Leadership and Academic Awards recognize exceptional undergraduate and graduate students who set the standard in recreation departments on campuses across the country. Up to six students in each of the six regions of the country are given this award.This year, three James Madison University students, undergraduate student Brad Burgess, and graduate students Jason Darby, and Megan Flosdorf were honored.They will be presented with their awards at the NIRSA Annual Conference in Nashville, TN in April.
"The application numbers for this award in our region are very high, so it is a competitive process," Steve Bobbitt, UREC Associate Director for Programming, said. "UREC has had twelve winners total in 18 years, which is exceptional, so to have 3 winners in one year is exciting. It demonstrates how our investment in student development over the years is paying off." Director of University Recreation, Eric Nickel said, "We are extremely proud of these JMU students who have displayed both academic success as well as leadership to our campus. All three of them are high quality people who richly deserve this honor."
Brad Burgess (JMU '14) is currently a senior in the Sports & Recreation Management major and serves as the Sport Club Council President. Brad is also the founder and was first president of the JMU Golf Club. Brad's passion emanates through his interactions with our sport club participants, staff, and other leaders on JMU's campus. Since Brad became part of our recreation family, he excelled by creating relationships with various sport club participants. Current Presidents attend monthly meetings led by Brad and they describe these meetings as relevant, informative, and efficient. Brad has also been a part of the JMU Study Abroad program, Delta Sigma Phi, Relay for Life and First Tee of Harrisonburg.
Jason Darby (JMU '14M) is currently the Graduate Assistant for Intramural Sports and Special Events, completing his Master's Degree in Campus Recreation Leadership. Jason has assisted the Intramural Sports program growth by displaying exemplary leadership traits, such as implementing new staff policies and procedures in response to the addition of two new program facilities, assessing Site Manager training for expanding the knowledge of our students, and mentoring students about their potential careers in campus recreation. He has collaborated with the office of Fraternity & Sorority Life and Orientation and also taken leadership roles in special events such as Nightmare at UREC and the Dukes' 5k.  Jason serves NIRSA as the current Virginia State Student Leader, and has served on multiple presentations and program committees. Jason has also held internships at the University of Mississippi and UCLA Departments of Recreation.
Megan Flosdorf (JMU '12, '14M) is currently the Graduate Assistant for Sport Clubs and Youth Programs, completing her Master's Degree in Campus Recreation Leadership. As a student at JMU, Megan was the President of Women's Club Water Polo and served on the Sport Club Executive Council for two years. Megan has creatively implemented large scale events such as our Sport Club End of Year Celebration and our annual Fall in Love with Harrisonburg service event. Megan's greatest attribute is her dedication to student development and the Sport Club Council (SCC). Her dedication to student development as a Graduate Assistant connects directly to her class work, as she is working on her thesis "An Exploration of a Sport Club President's Experience," a qualitative study about the learning that takes place as a Sport Club President. Megan has also been the lead counselor for Camp UREC, volunteered at Camp Thunderbird, and led and participated in numerous Alternative Break Trips.
View UREC Student Staff Awards and UREC Graduate Assistant Awards.
Last Updated: Wednesday, July 4, 2018