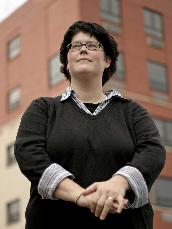 Dr. Laura Taalman Math professor
Laura Taalman started buying math textbooks in the second grade — because it was fun, not because she planned on teaching the subject. Even in college, she set her sights on becoming a mathematics researcher. Required to teach in graduate school, she saw its rewards and changed direction. That's a good thing for her students, those lucky enough to land a spot in one of her fun, but demanding classes. Among her admirers, add the Mathematical Association of America that selected Taalman for a 2005 Henry L. Alder Award as one of the most distinguished beginning college professors in North America, honoring "extraordinarily successful teachers whose influence extends beyond the classroom." And, nowadays, just for fun, she writes her own math textbooks.
"I expect them to perform at a very high level. What's the point of making everything dumbed down?"