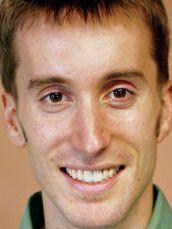 Avery Daugherty ('07, '09M)
Sparking instrumental change
Dedicated and compassionate Madison alum Avery Daugherty shares his passion for music in a novel way. Inspired by his fraternity's instrument drive to restore band programs after Hurricane Katrina, Avery organized his own fundraiser. His instrument drive raised $830 and acquired 20 instruments for local schools. Giving back to his community didn't stop there — he initiated an "Aspiring Musician Scholarship" and through a raffle, raised more than $800 toward the purchase of a new instrument for a local student musician. And his community spirit has extended to children in local hospitals. With the help of his fellow students, Avery has made 100 cloth dolls that will be handed out to youth in local hospitals. He says, "A piece of cloth could make the time a child has in a hospital a little less stressed." He credits his passion for service to his mother, naming her "the most selfless person I have ever met." Knowing that he has made a positive difference in the lives of others is Avery's motivation to continue his journey of service.
"I think it only takes the spark of one person's creativity and perseverance to inspire others to cultivate change."