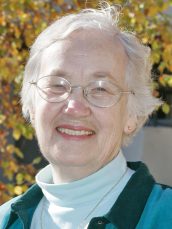 Pat Bruce Professor, mentor, advocate
Physical activity has always been important to Pat Bruce, though it hasn't always been easy. Reared as a proper Bostonian, she was obliged take her dog with her when she jogged because "it wasn't acceptable for a girl to go off running by herself," she explains with a smile. Playing racquetball was difficult because those courts were often on the "other" side of the men's locker rooms and therefore inaccessible to women. Initially denied membership in a country club because of her single status, she was eventually allowed to play golf, but only around men's hours. Undaunted, Bruce spent her career removing obstacles for others. Bruce arrived at Madison College in 1961 to teach swimming and to mentor student teachers of physical education. "I taught students how to adapt physical activity for handicapped students," she recalls. "I taught a student with cerebral palsy how to swim. He wasn't great, but that wasn't the point. He was safe in deep water."
Now retired, Bruce continues making physical activity a viable option for youngsters with her involvement in JMU's Morrison-Bruce Center, which she helped develop. There, JMU faculty and students lead physical activity programming, lectures, and workshops, sometimes teaming mothers and daughters, other times working exclusively with schoolgirls. Not surprising is a golf program for girls — during prime weekend hours.
"Activity is the core of physical education."