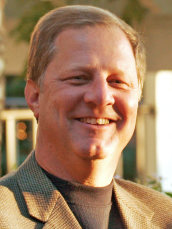 Ken Bartee ('83)
Alumni award winner and CEO
Ken is known for seeing the big picture. From that perspective as president and CEO of McDonald Bradley, one of the largest privately held information technology companies, he has increased the firm's revenues tenfold since 1994. Since 2000, he has brought that viewpoint to JMU, where he makes an enormous impact on the professors and students of the College of Business. As a member, and now chairman, of the CoB Executive Advisory Council, a group of top executives who bring the realities of the business world to the JMU campus, this high-powered executive takes the time to work directly with students and provides advice on issues such as department, faculty, program and curriculum development. In October 2005, Ken was awarded the Inez Graybeal Roop Distinguished Alumni Service award for his support and commitment to the CoB. Ken has helped to change the culture of giving at JMU by his personal example of selfless generosity.
"For me, giving back came later when I could appreciate how much knowledge I had gleaned during my years as a JMU student. I still rely on core business information and skills that I first learned at JMU. I was also very lucky to have several professors that took the time to challenge me to do more and to never stop learning. The experiential learning experience at JMU gave me the courage to take risks on new ideas and opportunities."