You are in the main content
Break the silence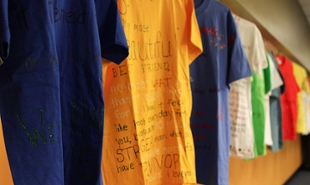 By Katherine Egan
"Stay Strong. You are not to blame. This demonstration has made a huge impact on my life." These are the types of reaction students, staff, faculty and the community hear as they leave the Clothesline Project event, hosted by the Office of Residence Life since 1992.
In appreciation of Sexual Assault Awareness month, The Office of Residence Life and the University Health Center have teamed up to educate the JMU community on sexual violence and to "break the silence." By working together, we hope to communicate and highlight sexual assault as a major public health, human rights, social justice issue, and to reinforce the need for prevention efforts.
The Clothesline Project is a visual display that bears witness to violence against men and women. The event is composed of t-shirts decorated to represent various individuals' experiences or relationships with domestic violence, sexual assault, or sexual victimization. Please stop by to support those victimized or to create your own shirt. The event will be held in Warren Hall's Transitions.
Monday, April 1 noon - 8:00 p.m.
Tuesday, April 2 10:00 a.m. - 5:30 p.m.
Wednesday, April 3 9:00 a.m. - 2:00 p.m.
This event is free and sponsored by the First Year Involvement Center, Office of Residence Life. For more information please contact the CLP committee at clotheslineproject.jmu@gmail.com or 540-568-3598.
"The shirts I've seen today are those voices of very strong and courageous people... Each time I come here, I feel less alone, less misunderstood, and maybe I will have the courage and strength to let go and move on."
Take Back the Night is an evening dedicated to raising awareness of violence and sexual assault committed against men and women, while creating a supportive environment for expression and empowerment. The event includes musical performances and speakers who bring personal insights about violence, a candlelight ceremony, and a march. The event will be held on Tuesday, April 2nd, 2013 at 6:00 p.m. at JMU's Grafton-Stovall Theatre. The order of events is as follows:
6:00 p.m. A cappella and poetry
7:00 p.m. Speaker: Angela Shelton
8:45 p.m. Speak-out followed by a candlelit march
This event is free and sponsored by the University Health Center. For more information please contact the TBTN committee at 540-568-2831.
By attending these events, you will support all those who have been affected, either directly or indirectly, by sexual assault.