Hart School of Hospitality, Sport and Recreation Management
Hart School Unveiling
---
Cause for celebration on Godwin Field Friday night as Heather Hart and JMU President Jon Alger dropped the curtain to reveal the logo for The Hart School of Hospitality, Sport and Recreation Management.
The Madison community gathered with the Hart's family and friends to celebrate the unveiling. The Hart School, named to honor benefactors G.J. Hart ('84), CEO of California Pizza Kitchen, and philanthropist Heather Hart, is the first named school in the university's 108-year history.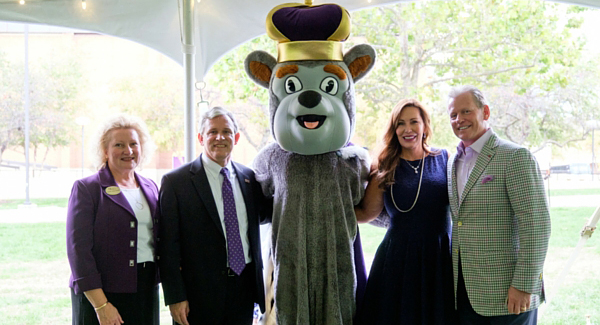 "The combination of GJ's and Heather's personal values and philanthropy with JMU's vision to be the national model of the engaged university," President Alger said, "truly is a match made in heaven." Addressing the celebration, G. J. Hart said "having your name on something's not really important unless you truly make a difference." Heather Hart cited teamwork as well as the inspiration she and her husband get from their four children, who were in attendance, as the secret to making a difference in peoples' lives.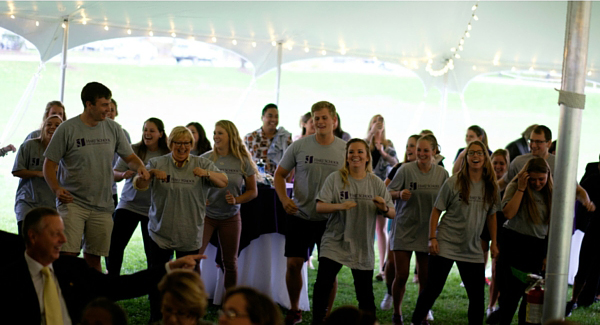 The significance of the naming, said Katelynn Sundheim ('16) confirms "that business and service can and should work together." She added that she and her fellow students are looking forward to being the first graduates of the Hart School. Photos from this past weekend's events, which included a brunch, dinner and reception celebration, are below
Published: Tuesday, October 20, 2015
Last Updated: Monday, May 7, 2018