News
CoB included in Bloomberg's top 50 undergraduate programs
---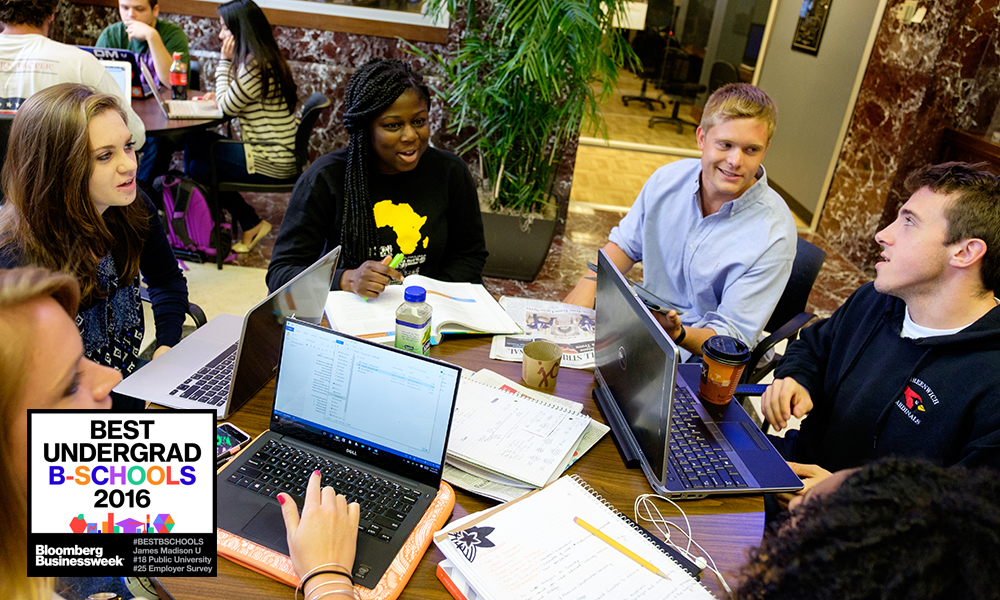 SUMMARY: Bloomberg Businessweek's final rankings of undergraduate programs includes JMU's College of Business in the top 50 in the nation.
---
Harrisonburg, VA – James Madison University's undergraduate business program continues to rank among the top 50 in the country, according to the 2016 Bloomberg Businessweek rankings, released April 19, 2016. The College of Business (CoB) ranked #18 among public institutions and #41 among all business schools nationwide, affirming its reputation as a leading business school.
 "JMU's College of Business is consistently ranked among the top business programs in the nation. We embrace JMU's focus on engaged learning, community engagement, and civic engagement while preparing our students to be collaborative business partners. That combination prepares our students to truly make the difference when they start their first jobs and beyond." said Dean Mary Gowan.
The schools were ranked by a combination of information from student and employer surveys, and data on internships and starting salaries. The program ranked #25 on the employer survey out of the 114  undergraduate programs reviewed, a testament to the quality of preparation provided by the JMU faculty and the depth of the students' preparation for success through experiential learning and internships. Unlike many business programs, JMU does not require an internship but data shows that 77 percent of business students acquired job experience related to their major prior to graduation.
JMU's undergraduate business curriculum is anchored within the JMU liberal arts tradition, ensuring students graduate with business acumen and understand the world in which business operates. Students are challenged by a rigorous and innovative business program taught by exceptional professors who ensure students develop strong analytical and critical thinking and interpersonal skills.
The CoB is among the fewer than 5% of business programs accredited by AACSB-International (The Association to Advance Collegiate Schools of Business), and one of 182 programs with both business and accounting accreditation. The College is known for its commitment to experiential learning, undergraduate research, superior faculty, state-of-the-art learning facilities and the integration of ethics and service into curricular and extracurricular experiences. Additionally,
JMU marketing students have more wins in the Google Online Marketing Challenge than any program in the world, including being recognized 4 times as the Americas Champion and also World Champions in  2014.
Accounting students complete a fifth year masters program and recently had the #1 pass rate on the CPA exam among schools with 20 or more students taking the exam
The Computer Information Systems and Business Analytics  program was just named  Information and Telecommunications Education and Research Association (ITERA) 2016 Program of the Year
Madison Investment Fund students consistently take home the #1 or #2 spot in student investment fund competitions.
To see the complete ranking, please visit: www.businessweek.com.
Bloomberg Businessweek did not conduct rankings of undergraduate business programs in 2015.  The magazine has recently announced that it will discontinue the ranking of undergraduate business programs after this year's ranking.
Published: Tuesday, April 19, 2016
Last Updated: Thursday, January 4, 2018