News
Cameron Young Receives Degesch America Award
---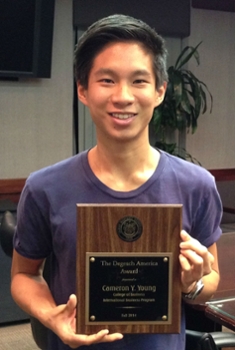 Dr. Marion White presented senior Cameron Young with the Degesch America Award at the Student Advisory Council meeting in October. Degesch America, located in Weyers Cave, Va., always gives the award to an International Business major and a student who "demonstrated leadership skills in campus activities, earned the respect of the IBUS faculty and demonstrated significant scholarly achievement and dedication to the study of international business." Young was very surprised when White presented him the award at the meeting.
"It does feel good to be recognized and I think that it will help in the job market," said Young.
Besides being a member of the Student Advisory Council, Young is a member of the Society of Entrepreneurs and he is on the Leadership Education and Development (LEAD) team, where he consults with students on how to become better leaders.
He also went outside of the box when he was looking for a summer internship last semester; Young got a Marketing and Business Development Internship in Singapore at Roomorama.com.
"I like working for the smaller companies, start-ups especially because it's more about what you can actually do," said Young.
As he dreams about working overseas again, he plans on continuing to produce his own film, while he looks for jobs in Seattle, Wash. and San Francisco, Calif.
Published: Tuesday, November 11, 2014
Last Updated: Monday, November 7, 2016