News
Sixth Annual Brent Berry Food Drive Underway
---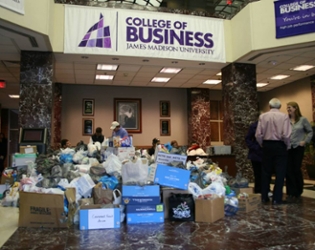 The CoB Diversity Council is hosting the Sixth Annual Brent Berry Food Drive supporting the Salvation Army.
Last year, Food Drive coordinator Dr. Chuck Baril set the goal of collecting 5,000 items. Thanks to a tremendous response from students, 7,200 items were donated. This year, Baril has set a goal of collecting 7,000 items.
Any donations can be dropped off in the box outside of Dr. Baril's office, Zane Showker 345, beginning Monday, November 10 and concluding on Thursday, November 20.
All nonperishable items are appreciated, but the following list provides particular items that are needed:
Food Items: Peanut butter, Tuna fish/canned meats, Soup, Pasta/Rice/Beans, Cereal/Oatmeal, Jelly/Jam/Preserves, Instant Mashed Potatoes, Macaroni & Cheese, Tomato Products (sauce/paste/canned), 100% Fruit Juices, Dry/Powdered Milk/Evaporated Milk and Healthy Snack Items.
Nonfood items include: Diapers/Baby Wipes, Laundry/Dish Detergent, Soap/Sanitizer, Toilet Paper/Paper Towels, Toothbrushes/Toothpaste and Feminine Hygiene Products.
Please join in the Thanksgiving spirit and participate in this Food Drive. 
Published: Tuesday, November 11, 2014
Last Updated: Monday, November 7, 2016