Office of the Provost
Innovative agreement signed between JMU and the University of Salamanca
---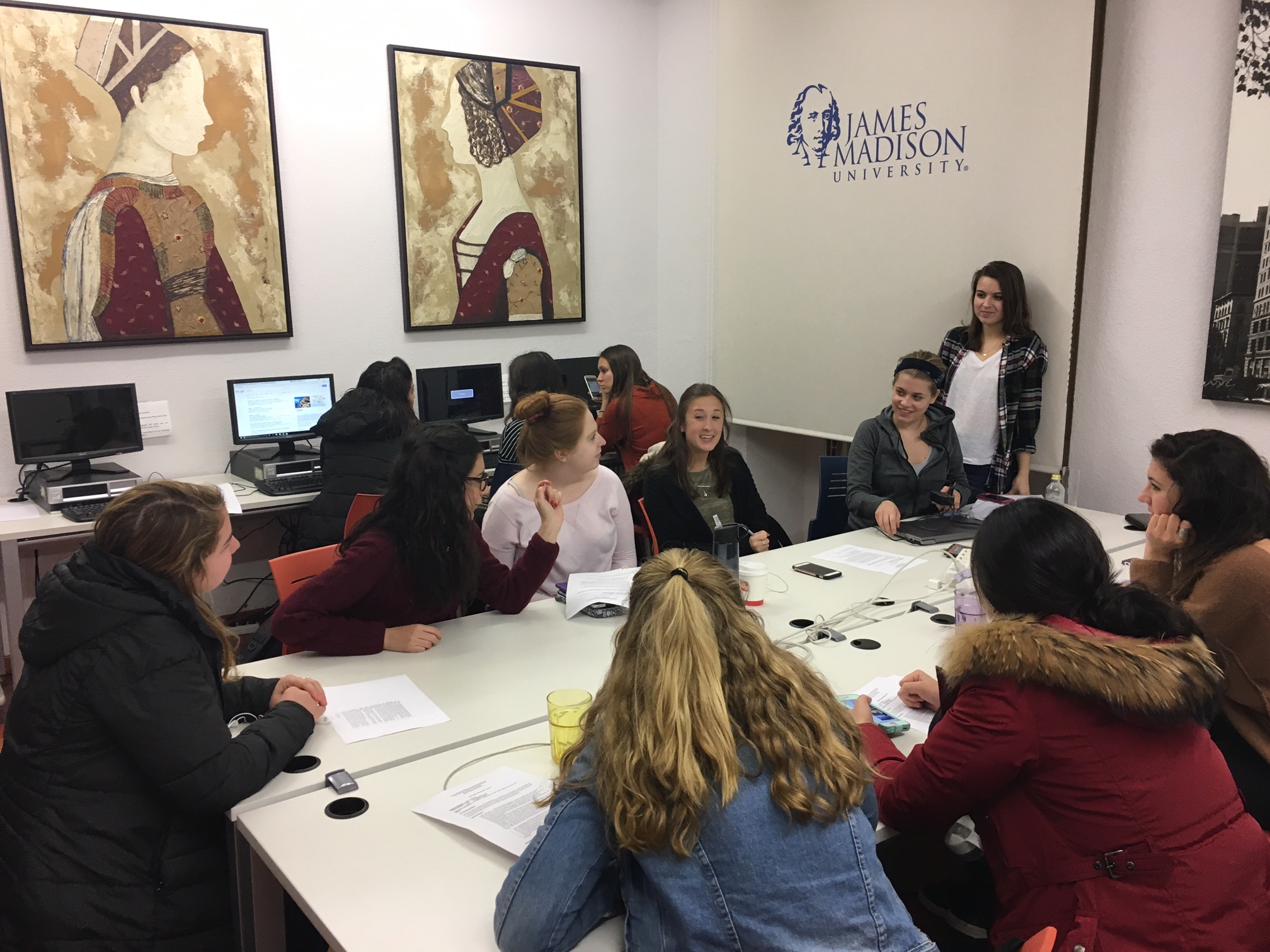 In mid-January of 2017, Spain's University of Salamanca (USAL) and JMU signed an educational cooperation agreement of external academic practices.  The agreement allows master's degree students in the art history program at USAL to intern with JMU's Semester in Salamanca program.  Representatives for USAL included the Vice-Rector of Students, Dr. Cristina Pita Andrade, and the Director of the Master's in Advanced Studies in Art History, Dr. Francisco Javier Panera Cuevas. Felix Wang, associate executive director of the Center for Global Engagement, and Dr. Jesús Jiménez, Resident Director of Semester in Salamanca, represented JMU.
The new agreement will allow collaboration and practical training of students as well as integration of the two programs and further cooperation between the universities.  This agreement coincides with the celebration of USAL's 800th anniversary and commemorates 30 years of partnership with JMU as of 2018. 
JMU's Semester in Salamanca began in the fall of 1987.  Since that time, the relationship between USAL and JMU has grown and flourished, creating ever more opportunities for JMU students and faculty.  The program was designed to be a Spanish language and culture experience in which students take classes taught by Spanish professors at the University of Salamanca and live with local host families.  For the program's 25th anniversary reunion in Harrisonburg, USAL's Vice Rector for International and Institutional Relations, Noemí Domínguez, came to join with program alums, faculty, and Jesús Jiménez and his wife Ana Caro, both working onsite with the program, he as resident director and she as housing coordinator. 
In 2014, the strong relationship between the two institutions also resulted the establishment of a double master's degree program allowing students to earn a master's degree from each institution. The collaboration was pioneered by the Spanish Language Department at the USAL and the College of Education at JMU. Upon completion of the program, students receive a Master in Languages and Culture from USAL and a Master of Education at JMU. The program is designed for teachers of Spanish in the United States who are interested in continuing their academic preparation while still maintaining their teaching career.
Published: Tuesday, April 18, 2017
Last Updated: Tuesday, April 18, 2017