Office of the Provost
Student Profile: Kailyn Harris-Gilliam
By Kailyn Harris-Gilliam ('17)
---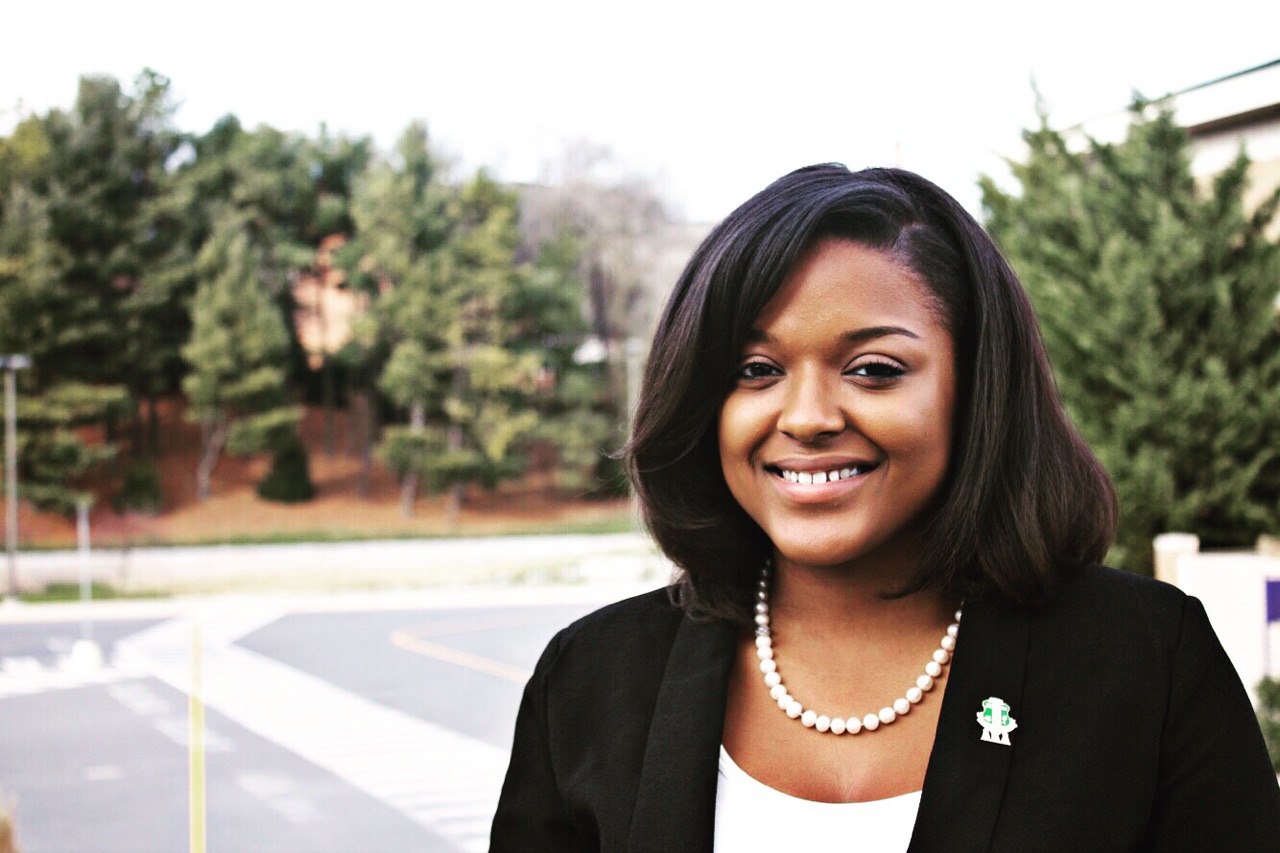 My name is Kailyn Harris-Gilliam, from a small town called Cumberland, Virginia. I am in my third year at James Madison University, graduating this coming May with my Bachelor of Arts Degree in English. I will be continuing my education through JMU's Graduate School to obtain my Master's in the Art of Teaching. Coming from high school with my Associate's Degree, I knew that my time here at JMU would be limited, so I wanted to not only dedicate my time to my academic career but to making my mark on Madison and the Harrisonburg community.
Academically, I have broadened my perspective through honors courses, practicum placements, and internship experiences. One my most rewarding experiences at JMU was my work to help document and curate the local African American history of the Harrisonburg/Rockingham community. Under the leadership of Drs. Mollie Godfrey and Sean McCarthy, I interned for two semesters working to research the history of a renowned local educator, Miss Lucy F. Simms, while understanding the rich culture that came from the northeast community of Harrisonburg City. Not only did this experience allow me to learn personally about the history and heritage in the Valley, but I was able to reach out and educate others. This exhibition gave me an opportunity like no other, and it is now a permanent display at the Lucy F. Simms Center in Harrisonburg City.
Socially, I've pushed myself to step out of my comfort zone and become a bit of a social butterfly. JMU has a home for everyone. It's all about finding your own. I found my place at JMU through the Center for Multicultural Student Services. I am a member of various organizations that fall under their umbrella, many of which I have the pleasure of serving as a student leader. From my sorority, Alpha Kappa Alpha Sorority Incorporated, which is the first sorority founded for Black women in 1908 on the campus of Howard University, I serve as the current treasurer. We are dedicated to sisterhood, scholarship, and service–which is a motto that I hold true to my heart. Further, I am a dedicated member of other multicultural organizations on campus that have allowed me to be myself at this school. I am the Vice President for the Black Student Alliance. Our organization advocates for the Black voice on campus, providing programs that educate the JMU community while providing a home or a safe space for many students and much needed conversations. In addition, I am a member of Students for Minority Outreach. Through this organization, I volunteer time to show our university to minority students from middle and high schools. I have guided small tours, hosted students overnight, and spread my love for JMU by influencing students to make this school their new home.
Through all these social experiences, I have dedicated my time to helping, educating, and serving others. I am committed to enriching my community, be it on campus through much needed events that educate the community on issues of diversity or in the community to help those in need. I spend much of my free time in the community. In my current job, I work with underserved youth at Skyline Middle School through the On The Road Collaborative. Through this after school enrichment program, I help provide homework help, leadership development skills, and mentorship to students who need it most. Further, I dedicate my time in the community to helping the homeless population. Over the past year, I have spent free weekends serving food at local shelters, preparing hygiene bags to donate, and helping with clothing drives for various shelters. 
Published: Tuesday, March 28, 2017
Last Updated: Tuesday, March 28, 2017