Arts and Culture
Another JMU team continues run of success
---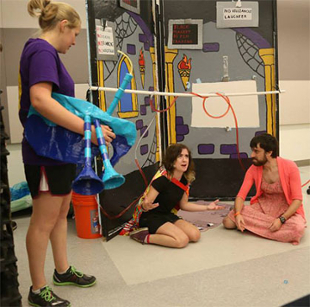 JMU Destination Imagination extended its years-long streak of success by winning gold, silver and bronze medals at the 2015 Destination Imagination Global Finals tournament May 20-23 in Knoxville, Tenn.
For the first time ever, JMU DI medaled with all teams it brought to the competition.  Applying fields of study ranging from science and engineering to music and theater arts, JMU DI teams won two gold medals, two silver medals and one bronze medal.
JMU's "Brand Aid" team took first place in the project outreach: service learning challenge and a highest score finish in the instant challenge portion of that event. The "Making Waves" team placed first in the scientific challenge. Earning second place finishes in the highly competitive pools were the "Lose to Win" team—in the structure challenge—and the "Feary Tales" team—in the fine arts challenge. Completing the medal sweep was the "Creature Feature" team, which won third place in the technical challenge.
More than 1,460 elementary school, middle school, high school and university teams from 42 states and 17 countries made the 2015 Destination Imagination Global Finals, the largest celebration and competition of creativity and problem-solving skills of its kind.
JMU DI is an academic and club program where students learn problem solving and team communication skills. The DI class, "advanced communication and creative problem solving in multidisciplinary teams," is offered through integrated science and technology (ISAT 280), engineering (ENGR 280) and speech communications (SCOM 318). JMU DI students come from a full range of JMU academic programs, including business; computer science; engineering; industrial design; integrated science and technology; interdisciplinary liberal studies; justice studies; music; philosophy and religion; physics; and theater and dance.  The teams also have students from all class years.
In addition to preparing to compete at the Global Finals, JMU DI students volunteer at regional and state DI events and run instant challenge workshops for K-12 teams. The JMU DI team also represents JMU and Virginia at the Global Finals. In addition to competing, team members interact with event sponsors from industry, including 3M, Disney, NASA, National Geographic and Microsoft.
More information about the JMU DI team is available on its Facebook page. Additional information also is available by e-mailing mailto:jmudi@jmu.edu.
Published May 29, 2015
Published: Friday, May 29, 2015
Last Updated: Wednesday, November 29, 2017