News
Dukes keep dancing
---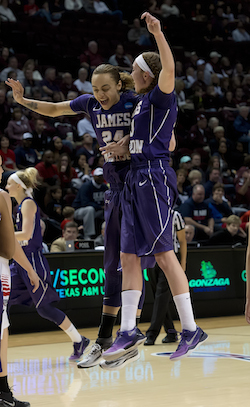 The James Madison University women's basketball team plays its second round game of the NCAA Women's Basketball Tournament at 9:45 p.m. today, facing Texas A&M on their home court in College Station, Texas.
JMU won its first NCAA tournament game since 1991 on Sunday with a 72-63 victory over sixth-seeded Gonzaga. The Dukes have won 29 games this season, which ties a school record.  They won 29 games in 2011-12 when JMU advanced to the WNIT championship game.
Senior Kirby Burkholder scored 28 points in Sunday's victory to move into fifth all-time in JMU scoring history (1,627 pts). Head coach Kenny Brooks has now recruited and coached the top six scorers in JMU women's basketball history.
Junior Toia Giggetts scored in double figures for the 25th-straight game against the Zags (15 points), tying the second-longest streak in JMU history. It is the longest double-figure scoring streak in a single season as both the longest streak (28 games) and other 25-game streak bridged two seasons.
JMU and Texas A&M have never faced each other in women's basketball.
More information about today's game, including where to tune in, can be found at jmusports.com.
# # #
Published: Monday, March 24, 2014
Last Updated: Thursday, October 20, 2016