News
President Alger makes executive assistant appointment
---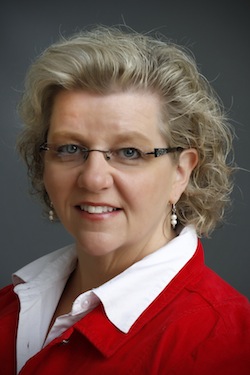 Maggie Burkhart Evans
President Jonathan R. Alger announced today that Maggie Burkhart Evans has been selected to fill the role of executive assistant to the president.
As a member of the Senior Leadership Team she will be responsible for coordinating the agenda for the team's meetings, reviewing and drafting responses to correspondence sent to the president's office, facilitating policy review with the University Policy Committee, coordinating assignments with the university commissions and committees while serving as a resource to those groups, and acting as a liaison with the vice presidents.
"I am delighted that Maggie will be joining the Senior Leadership Team," said President Alger.  "She brings a wealth of experience within the university and is widely respected by faculty, staff, and students.  She will bring a fresh and thoughtful perspective to our leadership."
Since coming to JMU in 1990 as the assistant director of residence life, Evans has served as the associate director and interim senior director of residence life, and as the honor council coordinator from 2001 to 2007.  Most recently she served as the director of residence life, a position in which she was responsible for the leadership, administration and supervision of all functions within the department.
Throughout her JMU career, she has served in a variety of other capacities on the Academic Affairs Associate Dean Management Team (since 2001), the College Student Personnel Administration Program Committee (since 1991), the Judicial Council (since 1994), and as a graduate instructor in the JMU department of graduate psychology.  Additionally, she has played key roles on several influential committees at JMU, including the Quality Enhancement Plan Committee, Policy Committee (chair) for the Institute for the Stewardship of the Natural World, the JMU Honor Advisory Board, Student Affairs Program Review Task Force, the Commission on Community, the Alcohol Task Force, the Homecoming Committee, and the Student Affairs Emergency Response Team. 
Evans belongs to several professional associations, among them the Virginia Association of College and University Housing Officers, which awarded her the 2010 Pioneer award; the Southeastern Association of Housing Officers, of which she's the current president; and the Association of College and University Housing Officers International, who selected her as the 2007 recipient of their Presidential Service Award. 
She received her M.A. in educational policy and leadership from The Ohio State University and her B.A. in communications/graphic design from Bowling Green State University.
Published: Wednesday, March 13, 2013
Last Updated: Thursday, October 20, 2016